Taking Action in Your Career 
June 11, 2020, 12:00pm
Webinar hosted by MIT Sloan Club of New York 
When we have big dreams, it can seem intimidating at first, and we may not even know where to begin.
In this virtual workshop, you will learn how to not be intimidated by big goals and learn to take small action towards your goals, and eventually achieve big dreams.
Celina Lee will teach you how to "Take Action" from her proven framework which has transformed lives and careers of many professionals.
Dream Big and Start Small.
Follow your curiosity, not your passion.
Give yourself the permission to do things that makes you happy and brings you joy even if it has nothing to do with your career right now.
Action lessens fears and grows confidence.
Share your ideas, goals and dreams with others.
Set the intention and commit to it, then you will start to see opportunities you would have otherwise never seen.
Celina Lee, globally recognized career coach, award-winning writer, and podcast host (and former lawyer & investment banker) will share how she transformed her career and the effective strategies she has used to coach many professionals out of unfulfilling jobs and into careers they love.
With a passion for helping people to pursue their dreams and live a life doing what they love, she coaches many professionals on their career development, and has given speeches and delivered workshops in many countries.
Celina started her career as an investment banker at Merrill Lynch and worked as a corporate lawyer at a law firm, Ropes & Gray LLP in New York City.  She received her undergraduate degree from MIT and law degree from U.C. Berkeley School of Law.  Celina is a certified professional coach and is a graduate of the Institute for Professional Excellence in Coaching (iPEC).
Want to come but can't make the date? Check out this free resource I have created, 3 Steps to Finding True Career Fulfillment. You will also be able to find out when I have the next workshop!
---
Download the 3 Steps to True Career Fulfillment Here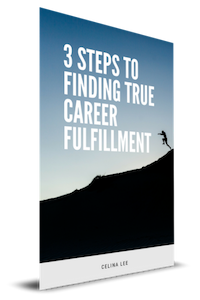 There comes a time in your career when you question your professional happiness and fulfillment. This can be a defining moment if you take the time to ask yourself important questions and take action towards career that brings you joy.
If you are feeling stuck and don't know what to do next, you are not alone. With the right guidance and a little momentum, you can be happy and fulfilled personally and professionally. If you're looking for clarity and next steps, check out this guide, the 3 Steps to Finding True Career Fulfillment.
I use a 3-part framework to help you take the next step towards doing work you love and believe in. Get your copy here.