Do What You LOVE: Creating a Thriving and Fulfilling Career
September 18, 6:30pm – 8:30pm
Location: Brown Rudnick (NYC), 7 Times Square, NY NY, 10036
Hosted by CreativeMornings
Registration is completely full with a long waitlist. If you want to come, please email me (celina@giveonedream.com) and I'd be happy to make space for you.
True fulfillment in a career is possible only when what we do is aligned with who we are.
Too many people are unhappy, feel stuck, and don't know what to do next. Why?
Because we overthink and underact.
How can we create a thriving and fulfilling career doing what we love?
This workshop is designed to help you identify your core values and get clarity on your goals so you can make positive progress in your career.
You will learn the LOVE framework that has been proven effective in transforming careers and lives of many professionals.
LOVE
Learn About Yourself
Gaining self-awareness and knowing our values are the first step towards discovering work that is aligned with who we are.
Overcome Internal Obstacle
Many of us stand in our own way of living the life we want, because fear stops us from taking action. It is crucial to overcome internal struggles, learn how to reframe failure and rejection, and be able to manage negative inner-voice.
Visualize Your Success
Visualizing yourself having achieved your dream will help you to stay motivated, focused, and lead you to take actions to make it a reality.
Explore & Take Action
It's only through action that our lives will change. We need to learn how to create career vision that is aligned with our values, and then take steps and actions towards the career that gives us joy and meaning.
You will gain clarity on your goals and learn to make actionable steps to make them a reality. By understanding how conscious-based decisions differ from fear-based decisions, you will uncover what may be holding you back. You will also learn the difference between what you truly want and what you think you should want, which will help you to move your career in a direction that is right for you.
About Your Instructor:
Celina Lee, renowned career coach, award-winning writer, and podcast host (and former lawyer & investment banker) will share how she transformed her career and the effective strategies she has used to coach many professionals out of unfulfilling jobs and into careers they love.
Want to come but can't make the date? Check out this free resource I have created, 3 Steps to Finding True Career Fulfillment. You will also be able to find out when I have the next workshop!
---
Download the 3 Steps to True Career Fulfillment Here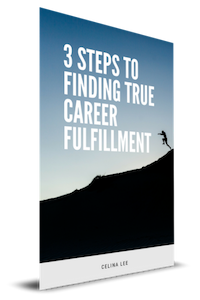 There comes a time in your career when you question your professional happiness and fulfillment. This can be a defining moment if you take the time to ask yourself important questions and take action towards career that brings you joy.
If you are feeling stuck and don't know what to do next, you are not alone. With the right guidance and a little momentum, you can be happy and fulfilled personally and professionally. If you're looking for clarity and next steps, check out this guide, the 3 Steps to Finding True Career Fulfillment.
I use a 3-part framework to help you take the next step towards doing work you love and believe in. Get your copy here.