Thursday, June 17, 2021 
7:30 -9:30pm EST/ 4:30-6:30pm PST
Hosted by Six Degrees Society
If you're a first-time attendee of Six Degrees Society event, you can use code 'love' to join for free!
Do What You LOVE
Creating a Thriving and Fulfilling Career
True fulfillment in a career is possible only when what we do is aligned with who we are. Too many people are unhappy, feel stuck, and don't know what to do next. Why? Because we overthink and underact. How can we create a thriving and fulfilling career doing what we love? This workshop is designed to help you identify your core values and get clarity on your goals so you can make positive progress in your career. You will learn the LOVE framework that has been proven to be effective in transforming careers and lives of many professionals.
LOVE
Learn About Yourself – Gaining self-awareness and knowing our values are the first step towards discovering work that is aligned with who we are.
Overcome Internal Obstacle – Many of us stand in our own way of living the life we want, because fear stops us from taking action. It is crucial to overcome internal obstacles, learn how to reframe failure and rejection, and manage our negative inner-voice.
Visualize Your Success – Visualizing yourself having achieved your dream will help you to stay motivated, focused, and lead you to take actions to make it a reality.
Explore & Take Action – It's only through action that our lives will change. We need to learn how to create a career vision that is aligned with our values, and then take steps and actions towards the career that gives us joy and meaning.
You will gain clarity on your goals and learn to make actionable steps to make them a reality. By understanding how conscious-based decisions differ from fear-based decisions, you will uncover what may be holding you back. You will also learn the difference between what you truly want and what you think you should want, which will help you to move your career in a direction that is right for you.

Curated Matches: Before we sit down for our programming, each guest will engage in two curated 15 minute connection, handpicked just for them, based on bios submitted pre-event via this form: https://goo.gl/forms/D8Tvyr3ygwPSwaGF2 or email hello@sixdegreessociety.com with a copy.
When:
Thursday, June 17, 2021 
7:30 -9:30pm EST / 4:30-6:30pm PST/
Where: Via Zoom, Link sent morning of
Cost: FREE for Six Degrees Society members. If you're a first-time attendee of Six Degrees Society event, you can use code 'love' to join for free!
Want to come but can't make the date? Check out this free resource I have created, 3 Steps to Finding True Career Fulfillment. You will also be able to find out when I have the next workshop!
About Celina Lee:
Celina Lee is a renowned career & executive coach, award-winning writer, and podcast host. She helps professionals find fulfillment and meaning in their careers by discovering work that is aligned with who they are.
Celina started her career as an investment banker at Merrill Lynch and worked as a corporate lawyer at a law firm, Ropes & Gray LLP in New York City. After learning the hard way the importance of doing work that is meaningful to her, she has designed LOVE framework, and has coached many professionals to figure out what they want, and to transition out of unfulfilling jobs and into careers they love.
On her podcast, Live Your Dream with Celina Lee, which has listeners from over 100 countries around the world, she interviews inspirational people from diverse industries about what they have learned in their journeys in life and career.
Celina has also founded Give One Dream, a global movement that inspires people to pursue and achieve their dreams. She has been invited to deliver keynote speeches and speak at industry-leading events, universities, and organizations including TEDx, MIT, Stanford, and Princeton University.
Celina received her undergraduate degree from MIT and law degree from U.C. Berkeley School of Law. She is a certified professional coach and is a graduate of the Institute for Professional Excellence in Coaching (iPEC).www.celinalee.co
---
Download the 3 Steps to True Career Fulfillment Here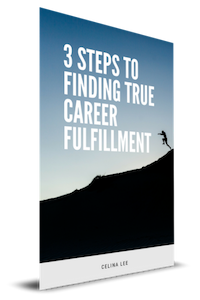 There comes a time in your career when you question your professional happiness and fulfillment. This can be a defining moment if you take the time to ask yourself important questions and take action towards career that brings you joy.
If you are feeling stuck and don't know what to do next, you are not alone. With the right guidance and a little momentum, you can be happy and fulfilled personally and professionally. If you're looking for clarity and next steps, check out this guide, the 3 Steps to Finding True Career Fulfillment.
I use a 3-part framework to help you take the next step towards doing work you love and believe in. Get your copy here.
---
Click Below To Subscribe to Live Your Dream Podcast!
"How did you find what you wanted to do with your life? How did you have the courage to pursue your dream?" These are questions I explore with people from all different walks of life. Their journeys reveal stories about dreams, courage, inspiration, and creativity. Subscribe below!