Speaking and Coaching
Celina understands the unique pressures leaders face when working in high-pressure environments, and what it takes to succeed and thrive.
She has designed the LOVE coaching framework which has been proven effective and powerful in transforming careers and lives of many professionals. 
Celina works with clients to create a vision for their career, and helps them to achieve their vision by learning more about themselves, overcoming internal obstacles, creating value aligned goals, and providing accountability to take action.
Through this process, she helps to bridge the gap between their present — where they are now, and their future — where they want to be.  
As a result, her clients have achieved higher performance at work as well as significant gains in happiness in both professional and personal lives.
Topics for Speaking and Coaching
Celina has extensive experiences speaking and coaching on topics that have helped a lot of people to achieve their goals and fulfillment in careers.  Some of these include 
Creating a Thriving & Fulfilling Career

The Art of Building Relationships and Effective Communication for Success and Happiness

Overcoming the Fear of Rejections

Overcoming Procrastination 

Managing Difficult Relationships and Resolving Conflicts

Time Management

Learning Your Values and Applying Them to Career and Life

Gaining Self-awareness

Overcoming Internal Obstacles and Negative Self-Talk

Improving Mental Health

Reducing Anxiety and Stress

Creating Value Aligned Goals

Translating Goals into Taking Action

Managing Career Progress, Promotions, and Transitions

Mastering Networking and Building Meaningful Relationships

Decision Making

Developing Effective Communication Skills

Building Effective Leadership Skills

Developing Emotional Resilience

Building Healthy Habits 

Building Self-Esteem 

Managing Fear

Stress management
Bio
Celina Lee is a globally recognized executive coach, lawyer, award-winning writer, and podcast host. She has extensive experiences coaching many executives and corporate professionals to achieve success and fulfillment in their careers, and has given speeches and delivered workshops in many countries. 
Celina started her career as an investment banker at Merrill Lynch and worked as a corporate lawyer at a law firm, Ropes & Gray LLP in New York City.  
On her podcast, Live Your Dream with Celina Lee, which has listeners from over 100 countries around the world, she shares lessons learned in her journey as well as  interviews from inspirational leaders from diverse industries about what they have learned in life and career.
Celina has been invited to coach, deliver keynotes and speak at industry-leading events, universities, and organizations including keynote speech at Industrial Designers Society of America (IDSA) International Conference: Making Things Happen, TEDx, MIT, Stanford University, Princeton University, Google, NYU, National Asian Pacific American Bar Association (NAPABA), Food and Drug Administration (FDA), New York City Bar Association, AT Kearney, Meredith Corporation (media conglomerate that owns People Magazine, InStyle, Travel + Leisure, Food & Wine Magazine, Real Simple etc.), City University of New York (CUNY), AmeriCorps, CreativeMornings, Six Degrees Society, Alaska Center for the Performing Arts, Future Leadership Academy in Sweden, World Federation of Overseas Korean Traders Association, Consulate General of Korea in Canada, Korean American Lawyers Association of Greater New York (KALAGNY), Korean American Bar Association of Chicago, Korean-American Scientists and Engineers Association (KSEA), Korean American Family Service Center (KAFSC), Yonsei University in Seoul, Korea, and Seoul Arts Center.
Celina received her undergraduate degree from MIT and law degree from U.C. Berkeley School of Law. She is a certified professional coach and is a graduate of the Institute for Professional Excellence in Coaching (iPEC).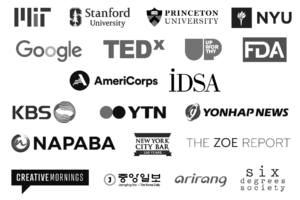 Contact
To inquire about speaking or coaching for your team or employees, please contact Celina below.
celina@giveonedream.com