It's January and there's still time for you to write down your New Year's Resolutions if you haven't already.
I usually write in my journal and just quickly start to write down what I want to do, experience, and accomplish this year without overthinking it.
I highly recommend writing down your new year's resolutions rather than just thinking about them. Unlike just thinking in your head, writing down gives you clarity and helps you to organize your thoughts.
And by committing it to paper, you make your goals more real and concrete. Studies have shown again and again that people who wrote down their goals and dreams accomplished significantly more than those who did not.
So let's get started!
To help you, I asked my friend, Michael Kim, the founder of the law firm Kobre & Kim, who I interviewed in episode 3, about how he comes up with New Year's Resolutions.
Here are 5 ways to help you achieve your New Year's Resolutions:
Make specific, small goals and not vague or big goals.
Pair up a goal with an experience you enjoy.
When you add a goal to your list, take out another goal from the list.
Remove all obstacles or distractions that could get in the way of achieving goals.
Review your progress on achieving goals every week.
Need a simple New Year's Resolutions numbered list? Click here to get mine.
---
Next Speaking Engagement:
Do What You Love: Creating a Thriving and Fulfilling Career
January 30, 7:00pm – 9:00pm EST
Hosted by CreativeMornings
Workshop Location: Breather
153 West 27th Street, Room 604
New York, New York 10001
This workshop is designed to help you identify your core values and get clarity on your goals so you can make positive progress in your career.
You will learn the 3-step framework that has been proven effective in transforming career and lives of many professionals.
---
Download Your Free Gift, The 3 Steps to True Career Fulfillment Here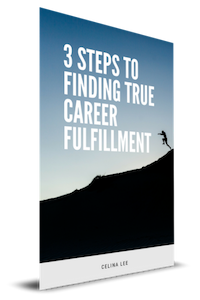 There comes a time in your career when you question your professional happiness and fulfillment. This can be a defining moment if you put your passion, aspirations, and needs into action.
With the right formula and a little momentum, you can be happy and fulfilled personally and professionally. If you're looking for clarity and next steps, check out this free guide, The 3 Steps to Finding True Career Fulfillment.
I use a 3-part framework to help you cut through the noise and step into doing work you love and believe in. Get your free copy here.
---
Did You Enjoy This Episode? Click Below To Subscribe:
"How did you find what you wanted to do with your life? How did you have the courage to pursue your dream?" These are questions I explore with people from all different walks of life. Their journeys reveal stories about dreams, courage, inspiration, and creativity. Subscribe below!