I have learned so much over the years about how we can be happy in our career and life. I learned them through my career transitions, coaching many professionals, and giving talks in front of thousands of people, and also interviewing many successful people for my book and on this podcast.
I have discovered the common themes of successful people, and the difference between people who achieve incredible amount of success and live fulfilling lives, and those who don't.
I also learned why so many people are stuck, and unhappy in their careers and life, and realized we never learned in school or from our families how to figure out our career and life. So if you are feeling stuck, you are not alone and it's not your fault!
True fulfillment in a career is possible only when what we do is aligned with who we are. I have developed the LOVE framework to help people transition out of jobs they hate and into careers they love, and live happy and fulfilling lives.
LOVE
Learn About Yourself
Overcome Internal Obstacles
Visualize Your Success
Explore & Take Action
I'm so excited to share with you I'm launching my very first group coaching program! I've taken everything I've learned over the years and designed a powerful program where I'll be guiding you through an inspirational journey of transforming your career and life through the LOVE framework. https://celinalee.co/cha/
Other episodes I have mentioned
---
Download the 3 Steps to True Career Fulfillment Here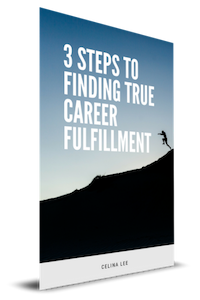 There comes a time in your career when you question your professional happiness and fulfillment. This can be a defining moment if you take the time to ask yourself important questions and take action towards career that brings you joy.
If you are feeling stuck and don't know what to do next, you are not alone. With the right guidance and a little momentum, you can be happy and fulfilled personally and professionally. If you're looking for clarity and next steps, check out this guide, the 3 Steps to Finding True Career Fulfillment.
I use a 3-part framework to help you take the next step towards doing work you love and believe in. Get your copy here.
---
Did You Enjoy This Episode? Click Below To Subscribe:
"How did you find what you wanted to do with your life? How did you have the courage to pursue your dream?" These are questions I explore with people from all different walks of life. Their journeys reveal stories about dreams, courage, inspiration, and creativity. Subscribe below!