Celina Lee  
I'm so excited to share with you my conversation with Debbie Millman.   
For 20 years, Debbie was the President of Sterling Brands, where she worked with over 200 of the world's largest brands including Star Wars, Burger King, Hershey's, Haagen Dazs, and Tropicana, and many other iconic brands.
She is the founder and host of Design Matters, one of the world's first and longest running podcasts, where she has interviewed nearly 500 artists, designers and cultural commentators for over 15 years. 
In 2009, Debbie co-founded the world's first graduate program in branding at the School of Visual Arts in New York City. 
She has been named "one of the most creative people in business" by Fast Company, and "one of the most influential designers working today" by Graphic Design USA. 
I've been following Debbie for a long time and I really admired her, not just for her accomplishments in her career, but was really inspired by how she overcame a lot of difficulties especially when she was young as you'll hear about in our conversation today.
And she is someone who refused to be defined by her circumstances, and despite getting a lot of rejections, she kept trying again and again, and eventually became incredibly successful in her industry. 
So I've been a fan of Debbie for a long time and dreamed that one day I will interview her on my podcast. She teaches at SVA, School of Visual Arts which is just one block away from where I live in NYC in Chelsea neighborhood. And I was thought she is like, 30 seconds away from me and  there has to be a way for me to meet her and invite her to my podcast! 
And one day, I randomly came across an event that was happening that night, where she was one of the speakers and I frankly I didn't even know anything about the event, but I just knew I had to go and meet her. Because it's all about just showing up, right? Of course, this is before the pandemic where real life events were still happening. 
So I bought a ticket and just showed up at the event a few hours later.
And when I walked in, I saw Debbie in line to go to the bathroom. And I was like oh my god! She is right there! And of course I was star struck and kind of nervous but I knew I just had to talk to her. This was my chance. 
So I walked up to her and said, "Are you Debbie?" I know this is a silly question, but she was incredibly kind and nice, and I told her how I've been following her a long time, and how much I admired her and her work, and I told her that I came to the event just to meet her. 
And I also shared with her my story, and about my podcast and asked if I could interview her on my podcast. She said Sure! And she gave me her email address. And I was SO excited!!!
By the way, in real life events, if you want to meet and talk to the speaker, it's usually a good idea to try before the event, if possible. 
Of course some speakers don't like to talk before the event, maybe they are doing last minute prep, but if you see that they are around, and they don't seem busy, and you see them talking to other people, this is often the best time to say hi and introduce yourself.  Because at the end of the event, there's usually a long line to talk to the speakers, so you may have to wait a long time, or you may not even get the chance.
I know this because I also do a lot of speaking engagements, and I've seen that sometimes people wait a long time to talk to me at the end of the event, which I always feel bad about, so try talking to the speaker right before the event if possible. Of course this is when we go back to our normal life after the pandemic. 
So anyway, back to my story of meeting Debbie, so after she gave me her email address and asked me to send her an email, she told me that she is actually flying out to London that night right after the event, so I knew that she was going to be out of town for awhile may not respond to my email right away. 
So I waited several days and emailed her, reminding her how we met, and inviting her for an interview on my podcast, and I did not get any response. So I sent another email a month later, and again no response. And then 3 months later, she actually emailed me back, and said 
I'm so sorry about losing touch!
If you'd still like to do the interview, I would be honored.
And I was like, omg, the honor is all mine! And I remember this moment so clearly because I was actually traveling in Cuba at the time, and didn't have internet access, which was both frustrating and liberating at the same time. 
So I couldn't check my email for several days, and when I was finally able to check it for the first time, only for like a few minutes, I saw that I got a response from Debbie! So I was super excited! 
So I immediately wrote her back. But did not get any response. So I followed up about 2 weeks later, and again no response. And then I emailed her again, about 2 weeks after that, and she finally responded to me with a date and time for our interview. 
So I finally had my interview with her, which was amazing, and I hope my story of how I met Debbie and recorded this interview shows you that a No or a lack of response, is not a permanent No. It's not a No never, but just a no, right now.  
So if you get a no, or don't get a response, do not get discouraged, and try again. 
Because if I had given up after not getting a response from Debbie, the first, or the second time, or the third, or even the fourth time, this interview would have never happened. I had to try 5 times before she said yes.
And learning to not let the fear of rejection get in the way of you trying for the things you want, is crucial for your success because if you don't ask for it, you are never going to get it.
So I give all my coaching clients these on going assignments called the Rejection challenge or the resilience challenge, and ask them to get as many rejections as possible every single week. The goal is just to get rejected, so if you get a yes, then you have not done the homework. And when the goal itself is getting rejected, then you are no longer worried about getting rejected and getting your feelings hurt, and this helps you to reframe rejections. 
And many of my clients are so shocked at how many yeses they get, because they often get a yes from a person or an opportunity that they otherwise would have never tried, had it not been for the assignment I gave them. 
They get a yes, and they are like, omg, I would never have gotten this opportunity because if you didn't make me, I would have never tried for it or asked for it.
So think about in your own life, how you may have been self-rejecting yourself, before you even give yourself the permission to just try it and go for it. 
If you are able to reframe rejection as the evidence that you are trying and getting one step closer to achieving your goals and dreams, then you'll be able to achieve incredible things in your life.
I actually have an episode where I talked about all the rejections I got while trying to write my book, which was my childhood dream, and it's actually the most popular solo episode on my podcast. So if you want to hear all about all the creative and crazy things I did to try to meet and convince people I wanted to interview for my book, you can check out my podcast Episode 37, How to Turn No into Yes. And I'll include the link in today's show notes.
You can go to celinalee.co/episode40 that is celinalee.co/episode40 and or just click on the show notes for today's episode on your podcast app. 
Dealing with rejections is one of the topics I talk to Debbie in our conversation, and we also talked about why courage is more important than confidence, and how what seemed like the worst thing that happened in her career actually turned out to be the best thing. You'll also hear about a very important assignment she did in Milton Glaser's class at School of Visual Arts about how to design and manifest your dream life. 
Milton Glaser is one of the most famous and celebrated graphic designers in the world, and is well known for his I love NY logo (which I'm sure all of you have seen) and he is also a founder of New York Magazine. He passed away last summer in 2020 on his 91st birthday. 
My interview Debbie was recorded before the Pandemic, but I think what we discuss is still not only relevant but even more important now, so I hope you will enjoy our conversation.
And before I share my conversation with Debbie today, there's something that I'm really excited about and I wanted to tell you about it.
I'm in the process of developing my first Online Course & Group Coaching program which will launch this year!
I had a very successful small group coaching program last year, and I decided to further develop it into a course.
In this new course, I'll have weekly live sessions where you will learn everything I teach about how to do what you love, and how to create a fulfilling and meaningful career and life.
You will be part of an inspiring community of people who are going through a journey of transforming their careers and lives. There will be a lot of support and accountability to help you take action on your goals and dreams.
I'm now inviting a small group of people to join as a founding member. As a founding member, you will get many benefits which will include the lowest price that will ever be offered, and also 1:1 private coaching with me, and many other bonuses and benefits.  
And you'll also be able to help me shape the course and take part in helping many people to change their careers and lives.
So If you are interested in learning more, just message on my website, celinalee.co/contact, that is celinalee.co/contact or just click the link for today's show notes on your podcast app.
I'm only inviting a small group of people to be a founding member, so be sure to reach out soon, if you are interested in learning more about it.
Ok, I hope you enjoy my conversation with Debbie Millman. 
Celina Lee  
Hi, Debbie, how are you? I'm so excited to have this conversation with you. Thank you so much for your time. I have many, many questions I want to ask you, but I would first like to start with your childhood. Where were you born? Where did you grow up?
Debbie Millman  
I am a native New Yorker. I was born in Brooklyn, and I grew up in Brooklyn, Queens, Staten Island, Long Island, went to college in Albany, New York, the capital of New York. And then as soon as I graduated, I moved to Manhattan, and I've lived here ever since.
Celina Lee  
I heard you did a drawing when you're eight years old that kind of predicted your life. 
Debbie Millman  
Yes, yes. I only discovered it later in life when I was going through a box of old things of mine. But I drew a picture of a little girl. We're walking on the streets of Manhattan. There was, it's a street scene, and it has a bank that's labeled bank and dry cleaners that's labeled cleaners. My signage was exceptionally accurate, a cab, a taxi, that's a taxi. But then it was a delivery truck, a big delivery truck, and it said Lay's potato chips, but I drew the logo. 
Celina Lee  
Wow. 
Debbie Millman  
So 35 years later there I was living in Manhattan, going to banks and dry cleaners and taking taxis and buses and drawing logos for a living. So it seems somewhat serendipitous. 
Celina Lee  
Yeah. And for 20 years, you were the president of Sterling Brands where you worked on branding for some of the most famous and iconic brands in the world, like Burger King, Star Wars, 7 Up, Hershey's, Haagen-Dazs, Tropicana. I mean, the list goes on and on and on. So it's kind of very interesting that your drawing predicted your life in a way. 
Debbie Millman  
I know. Makes you wonder how much knowledge we're really born with about the trajectory of our life.
Celina Lee  
Right. Can you tell me a little bit about your childhood?
Debbie Millman  
My childhood? Well, I was born in Brooklyn. I lived there for the first two years of my life. And then my folks moved to Howard Beach, Queens, I went to public school there P.S. 207. Stay there till the middle of third grade. Then my parents, we moved to Staten Island. My dad was a pharmacist and he bought his first pharmacy on Staten Island, a pharmacy called May Bowers, and we lived there until my parents got divorced. I moved the summer before sixth grade with my mother. And then her new husband and his two kids to Long Island and live there till I graduated and went to school. But it was a dark childhood, I would consider my childhood to be the dark years of my life, lots of craziness and violence and abuse and sadness and tears and not, not great.
Celina Lee  
Did you have a childhood dream during those years, something that you thought you might want to do when you grew up?
Debbie Millman  
It's funny, I used to love to play school.
Celina Lee  
Interesting. Here we are, recording at the School of Visual Arts where you teach.
Debbie Millman  
Yeah. And I actually was so involved in in this sort of play acting. My brother was my student. And I'd have, my parents got me a book that I could record like the names of the students in so I'd make up names for the entire student body, and then I'd call the attendance. My brother was my only student but I taught him so well, that he ended up skipping kindergarten and going straight into first grade because he knew how to do everything that you learned in kindergarten.  My parents thought it would just be boring for him. And so he skipped kindergarten.
Celina Lee  
Wow. How fun is that? I heard that you worked at a school newspaper paper when you were in college.
Debbie Millman  
I did, Albany student press. And I love that that is really what first introduced me to the world of design. I very quickly realized after becoming the editor of the arts and feature section of the newspaper in my senior year, that the editors were also responsible for the design and the layout of the newspaper. And so I realized very quickly that I liked design as much if not more than the editorial.
Celina Lee  
I heard you didn't get the opportunity to work there the first time you asked for it.
Debbie Millman  
Yes, I went in my freshman year. And then editor at the time a man named Robert Edelstein, who's a dear dear friend of mine asked me a very, I would say rudimentary question about my background, in an effort to understand looking back on it now I could say this with clarity, looking to understand where I might fit in. He asked me if I had any clips that I could show him my previous work and all I had was high school stuff because I was a freshman and felt really embarrassed and humiliated and didn't go back for years, but we became friendly over the course of my college experience by the time I was a senior and now 36 years later is somebody very, very near and dear to me.
Celina Lee  
Wow. So the first time you tried to get an opportunity to work there. And then he said, oh, do you have any prior experience?
Debbie Millman  
Right. And I basically didn't think that any of my prior experience was relevant because it was high school. And I was too embarrassed to go back.
Celina Lee  
So I've heard in other interviews you've done that you describe yourself who's very sensitive to rejection. I think a lot of us are, right? So how did you still go after the things that you wanted? Even though you were easily discouraged, which I think actually virtually all of us are, right? 
Debbie Millman  
Well, I wouldn't say that I'm easily discouraged. In that case, it did take three years for me to try again.
Celina Lee  
Mm hmm.
Debbie Millman  
I wouldn't say I'm easily discouraged. Now I'm easily hurt, or my feelings get hurt. And I and I feel the sting of rejection deeply. But I've been asked this question so many times that I've had to really think about the answer. And what I can tell you is that I think that my hope of a better outcome is bigger than my shame or humiliation in the moment. 
Celina Lee  
Wow, I see, interesting. So what you might be able to create and do with your work is more important than your feelings at the moment.
Debbie Millman  
Yeah, my desire for something bigger or better, is stronger in me, than my shame and humiliation of rejection. Even though it feels really big.
Celina Lee  
Right. You try not to get your emotions get in the way of still pursuing the things that you want. 
Debbie Millman  
Oh, no, they do. They get in the way. They get in the way, I just don't let them stay in the way.
Celina Lee  
I got it, even though it might take three years.
Debbie Millman  
Right, exactly, exactly. It's a little bit better now. I think that it's more in proportion to my experience now with metabolizing rejection. It doesn't, humiliation doesn't last forever. It does disappear.
Celina Lee  
Right. What did you do after graduating from college?
Debbie Millman  
I went to work at a cable magazine, and did that for about a year. And then worked in real estate marketing. And I hated that. I hated every single day of that. And then started working at a rock and roll magazine where I was both an editor and a designer. And then from there worked with a friend of mine that I had met that also worked on the student newspaper, but I hadn't met him during college. He also worked at the rock magazine, and he and I started a design firm, which we did for nearly five years. And then I left, took some time off to try to recalibrate my life, I was 30 at that point, and feeling like whatever I was doing was not meaningful enough or artistic enough, creative enough, just not a lot of enoughs. And then ended up getting a job at a company that I was really coveting a job for a company called Frankfurt Gibbs Ball Hind. And I did that for a year as well. And that wasn't a great experience in terms of my creative output. But I learned a lot. And but that really was, I would say, one of the rock bottom moments where even the firm that I wanted to work out so badly, that I thought was going to change my life. And my trajectory turned out to be kind of a dud. And that's when I ended up getting into branding. And that was the early 90s. That really was then the direction of my career in branding.
Celina Lee  
So it necessarily wasn't something you planned when you were graduating from college.
Debbie Millman  
Not at all. Not at all. I didn't even know that there was anything like that as a career. I mean, my dad was a pharmacist, and I spent a lot of time in his pharmacy and spent a lot of time behind the cashier watching how behind the cash register as a cashier, watching how people bought things, why they bought things the way they shopped. I don't know if it was osmosis, I don't know if it was just being in the environment for as long as I was ever since I was a little girl. I went and visited my dad and his pharmacy. And so I think it's an innate talent that I developed as a very young person that stayed with me throughout my life.
Debbie Millman  
I do think that there is something to having an innate knowledge of something before you even know that it's knowledge. And I was at a very young age conscious of the effect that pretty breads might have or what makeup could do to a young woman or what hair color might provide. And so, because all of those things were sold in my father's store, and I was able to watch people buy things, and observe their emotional transformation and that experience without even knowing that I was observing it, just visioning it. See, having this in front of me witnessing it is I guess the right word. I think it gave me a sense of what these acquisitions did to a person. 
Celina Lee  
Hmm. I love that. I know a person who had a big influence on your life is Milton Glaser, Can you tell us about him and how he impacted your life?
Debbie Millman  
Well, I knew of Milton for a long time before I was taught by him. I was obviously a huge fan of his work as one of the most famous graphic designers alive, and his influence on design and culture. I ended up taking a class with him a Summer Intensive in 2005. At School of Visual Arts, this was before I was teaching. And I took a class with him that really transformed the direction of my life after in terms of envisioning a life that had more purpose and more agency, and more intention.
Celina Lee  
I heard he had you and other students do an assignment. 
Debbie Millman  
Yes. 
Celina Lee  
Can you describe it to us?
Debbie Millman  
His assignment was one of the culminating projects in this program. And it was a five year plan, you had to envision your life five years into the future, doing every thing that you wanted to be doing. So imagine a day in your life five years into the future from the morning till the night. And you have to describe the day, just describe, the day. It's not really opinionating or writing as a journalist. It's just a almost like a diary.
Celina Lee  
Like an essay about…
Debbie Millman  
What you do from the moment you wake up till the moment you go to sleep. And he urged us to take it seriously, he felt that it was a very powerful little exercise. He felt that this did have the power to influence who you could become. He'd witnessed it in others over the 40 or 50 years of his teaching. And he did say that this class was one of the most important things that he did, and I put my heart and soul into it, and envisioned everything that I'd ever wanted at that point, really imagined wide. And within I'd say, a year or so, began to manifest a lot of what I had written and it's now 19 years later, no, I'm sorry, 14 years later. And I can tell you that the only things that didn't manifest are things that I changed my mind about. So yeah, really powerful. And so not last New Year's Eve, but the one before I decided to write another
Celina Lee  
Wow, I see.
Debbie Millman  
I only read it once a year, and you end up sort of forgetting what you've written. But when I went back to look at Milton's over the years, I was always astounded by what had come to fruition. And even in the first year after writing my second plan, I had the same experience. Really shocking. Wow, shocking.
Celina Lee  
There's magical quality to it. 
Debbie Millman  
Yes, there is. 
Celina Lee  
So are you supposed to write as fast as you can and not edit, but go back and read it? 
Debbie Millman  
I don't think there are those sort of hard and strong rules. And no one says you can't read it more than once a year. You could read it every day if you wanted to. That was just the way, I wrote it, forgot about it, came upon the notebook I wrote in a year later, forgot about the exercise completely. And it was only when reengaging with it that I was astonished by its power. Even one year later.
Celina Lee  
I wanted to tell you my story too, because I also wrote my dream list or like a letter to myself and about what I could become in the future when I was I think 13 years old. And I did this because I got bullied a lot, because my parents had come from Korea and you know, I was looked different. And just it was a tough time for me. So I kind of wrote a letter to myself, like, you know, these kids opinion's of me are not as important and one day I'm going to be this person who you know, does this and that and like, including writing a book and helping people. And I had completely forgot that I wrote this. And then many, many years later, my sister took a picture of it at my parents' home and then sent it to me. I was like, What is this? She's like, Oh, it looks like your dream is from when you're 13 years old. And I was shocked. I had done everything on my list. 
Debbie Millman  
Oh my gosh, that's amazing. I'm so sorry you were bullied.
Celina Lee  
Yeah, yeah, it's I think, you know, seventh, eighth grade is just a tough age. It really was especially for people who look different and who are not from the same culture didn't speak the same language. So yeah. 
Debbie Millman  
Look, I can tell you as seventh and eighth grader as a white, fairly okay looking American, it was brutal for me. I can only imagine how brutal it is for anybody that isn't that.  And it's just people are just awful.
Celina Lee  
Yeah. And I think it's when you feel like really no one's there to support you. I mean, of course, like their family and parents all that, but I think you can feel so alone, like during those times. And this power of just writing down, like the future of who you think you could be, was really, really a profound exercise in which it really changed my life. So I could totally understand why, you know, change yours, too. So now that you teach at school visual art, I think you have your students do the same exercise? 
Debbie Millman  
I do. I have both my undergrads and my grad students do it. And as far as I can tell, it's also really powerful. I changed it to a 10 year plan, Milton's class was a class for mid career designers. So for a slightly older group of people. Most of my undergrads are still in their early 20s. And even my grad students are probably the average age is late 20s, early 30s. And I still feel like there's so much trajectory, there's so much runway that they have, so why rush it?
Celina Lee  
Yeah. What were some of the dreams that you've seen your students achieve after writing their plans for their remarkable life?
Debbie Millman  
Oh, certain jobs that they want. Want to live in certain places, certain quality of life, certain kind of partner, children, just really wonderful things.
Celina Lee  
Amazing. I heard you had an experience in your life where it had a huge impact on your career. And it's really to the blog, Speak Up. Can you tell us about the story?
Debbie Millman  
Well, this was 2003. So the world in 2003 was a very different world. There was just, there was no YouTube, maybe YouTube started shortly thereafter. Certainly no social media, no MySpace, it was a very different world, people were emailing, they were doing some shopping online, Amazon was just like, had 1.5 million books in print on Amazon. It was a very different, different world. And a friend of mine sent me a link to an article that she'd seen on a design blog that I didn't even know existed. I didn't even know what a design blog was. It was the word blog was short for weblog, which was a more sophisticated forum where people could write things about things. And there was an article that had been posted about me criticizing my work and criticizing my involvement with a AIGA, which was really minor at the time, my involvement with the AIGA. AIGA folks did not openly embrace me as the kind of member they were hoping to have. And so I was startled to see this article, kind of take down my entire career. And it was very, very painful. And I didn't know what to do about it. I was called a she devil. 
Celina Lee  
Oh, my gosh.
Debbie Millman  
My work was called a pair of turds. I had never heard of anybody that had written articles on Speak Up, although I had heard of quite a number of the people that were commenting. And a lot of those people were heroes of mine, Emily Overman, John Bielenberg, people that I really respected. And so although Emily didn't write anything negative, I just want to make that clear, because she's very dear friend of mine now all these years later, and I didn't know what to do. And I waited a little bit, and then finally entered into the conversation in a very sort of gingerly manner. And then ultimately tried to share my point of view about why, for example, I thought my Burger King logo wasn't a turd. The whole thing was very indicative, I think of where the internet was going in terms of the kind of bullying that we see now. And fake news, but at the time, it felt very personal. I'd never experienced anything like that. I was really humiliated. I was really afraid that people in my office would see it. I was the president of the firm. So I felt that it was a bad example of our leadership. And so I ended up writing in and I think I persuaded people, but I think that what really opened people's eyes to my point of view was the way in which I communicated it, not necessarily what I was saying, but the way I was saying, and I wasn't particularly defensive. I was trying to be super logical and respectful. And then a few weeks after the brouhaha, sort of wound down, the founder of Speak Up, Armin Vit asked me to start writing for the site, which I did, and I'm now so that was 2003. So 16 years later, Armin and Bryony, the founders of Speak up, they also run brand new, are among my closest friends. I'm the godmother to their oldest daughter. So you never know where life is going to take you. Also, I can say that from that moment in time, that there's really nothing that happened to me after that experience that I can't in some ways, point back to it being an origin point. All of my creative professional success can be pointed to that moment because every of connection I made through that experience. Even my taking the Milton class, because I was on my way to an AIGA event after the article had, long after the article coming out maybe six months after, when I was already writing for Speak Up. All the Speak Up people were going to meet in Vancouver at the AIGA conference to have a launch party for a little book that Armin had designed with some of the best content on Speak Up, met the editor in chief of Print Magazine on that plane.
Celina Lee  
Wow.
Debbie Millman  
Ended up writing for Print Magazine, because I wrote for Print Magazine, I get the issues early. And in one of the early issues I got was an ad for Milton Glaser's class, which because I got it early is the only reason I got in. Because it was come first serve. So I was I think the first person to call.
Celina Lee  
So it's fascinating how an event in your life that seems so terrible, so awful at the time, could potentially have been one of the, most significant without a doubt experience of your life. A blessing.
Debbie Millman  
Absolutely. I remember walking home from work that night, that I found the article, crying, thinking my professional career was over, I'd have to quit to save my company any dishonor. I felt humiliated. I felt worthless, worthless in every sense of the word. And was really down about it for quite some time.
Celina Lee  
Yet, little did you know
Debbie Millman  
Little did I know that that experience would change everything about my life.
Celina Lee  
That was just the beginning of your amazing career.
Debbie Millman  
Yes. But I also want to point out at the time 2003, I was in my 30s already, well into my… no, I was in my 40s. What am I saying? I was already into my 40s. So it was in my early 40s. And that's really when my career took off. So, you know, for anybody out there that's in their early 20s or early 30s or late 30s or early 40s? And thinking, when's it going to happen? You have plenty of time. 
Celina Lee  
Yeah, I that's one of the questions that I get a lot, and people talk about how I'm in my late 20s or early 30s. And, you know, I feel like I should have already figured it out. I'm like, No, you have plenty of time, right. So your career is just an example of that, right?  So amongst so many amazing things that you did is, one of them is your podcast. Design matters. You have conversations about how creative people design their lives. And I think you started it many years ago when podcast was not even a thing. 
Debbie Millman  
Right. Started it in 2005. And I started it because I was cold called by an internet, fledgling internet radio network called Voice America. I thought they were calling me with a job offer. They were calling me with an opportunity to pay them to produce my podcast on the radio network. And at the time, because so much of my work was corporate because all of my work was corporate at that time, and I had all but given up my own self generated writing and illustration and painting, then I thought, why not try to do this because it could be a creative endeavor. I could also potentially incorporate work into it by interviewing some of my clients. And that's how it began. And it's been 15 years.
Celina Lee  
15 years and I think it's one of the oldest and
Debbie Millman  
longest running podcast, and less than 10 of us that are still podcasting from those early days.
Celina Lee  
And I think after working at Sterling Brands for over 20 years, you left?
Debbie Millman  
I did. Yeah, well, we sold the company in 2008. And I had a five year contract to stay on, and ended up staying eight. I was still having fun, I was renovating a house, wanted the paycheck. And just felt that it was time. I was already in my 50s, if not now when in terms of having the freedom to do more expansive things, to be able to do all the things that I always said I was going to do if I only had the time to do them. And so I took the leap in 2016.
Celina Lee  
And I think in 2009, you also co-founded the Master's in branding at the School of Visual Arts where we're recording
Debbie Millman  
We are recording in my podcast studio, here at SVA.
Celina Lee  
And I think you teach undergrads and graduate students and one of the classes about how to get the job of your dreams. 
Debbie Millman  
Well, it's called differentiate or die, how to get a job when you graduate. But I try to position it as not just any job but a job of your dreams. And yeah, I've been teaching that, I think since 2006.
Celina Lee  
So a job of your dreams that also pays the bill like so what are some of the things that you teach your students on how to how to do that?
Debbie Millman  
Oh, well, it's not really something that I could, it's not a sound bite. It's 15 week class course, which is a very intense journey in determining who you are, why you do the things you do, why you want the things you want, what you think you're, what you think you deserve, what you tell yourself about what you think you deserve. Developing a mission statement to articulate what you'd most like to be able to do to develop a graduation plan, a post graduation plan, to give you a road map to be able to get the things that you really want. You learn how to sit in interviews, you learn how to put together a work portfolio, which is very different from a school portfolio, to write a resume, to have the right LinkedIn profile. So it's a very tactical, but also psychological class, to both evaluate who you are, why you are and what you could do with what you want.
Celina Lee  
And I've often seen that when the reason why people are not living the lives that they want, or not getting the things that they want, is not necessary because of external circumstances. But a lot has to do with internal obstacles, right? 
Debbie Millman  
Yes. Self sabotage, they self edit before, either they think something's impossible, before they even consider the fact that it could be possible. Right? Right. And so early on, in their 20s, early 20s, they begin to edit out things that they just don't think they could do, before they even try.
Celina Lee  
So it's like you don't even give yourself the permission and you don't even let yourself to take the action. Of course, you're not going to get it because you've never tried for it. 
Debbie Millman  
And I think that I have a particular knowledge of this in my own life at that age, and then even older, that it helps me. I think, really, sincerely try to help them.
Celina Lee  
So what is it that you teach now that you wish you knew when you are at that point in your life?
Debbie Millman  
Um, I think the notion of self sabotage of self editing, of self denial. How worthlessness can or the sense of being worthless can and will limit what is possible for you.
Celina Lee  
Yeah, it's really surprising how unkind and mean we are to ourselves. Yeah, the things that we say to ourselves that we would never say to our best friends or loved ones, right? 
Debbie Millman  
Absolutely. 
Celina Lee  
And we're not even aware of that. Right?
Debbie Millman  
The constant dialogue, constant.
Celina Lee  
A lot of people say, oh, I would love to do this and that, but I'm not confident enough. What would you say to those people?
Debbie Millman  
Well, I've talked a lot about the fact that I believe that courage is more important than confidence. And this is something that the writer Danny Shapiro taught me, that confidence is overrated. And I thought a lot about that conversation, to try to understand what confidence really is. People think that you could go into a supermarket and sort of pick confidence off the shelf, and we're taught that you know, with hair color, and makeup and there's certain kinds of clothes and iPods and iPads and gadgets and devices and cars and shoes and bags and whatnot. I think that you could only really develop confidence after the successful repetition of any endeavor. You know, we are born unable to walk, talk, eat, bathe ourselves, clean ourselves, go to the bathroom by ourselves, etc. We have to learn all these things. And it's only when we learn them and do them enough times that we can say we have car confidence when we're driving or bathing confidence when we're in the bathroom or whatever. That people expect to have confidence in doing something that they've yet to do, is a falsehood of epic proportions. We just can't ever expect to be confident doing something that we've either never done before or have only done a little bit. So I think that ultimately, courage to take the first step into the effort of trying something is much more important than confidence. 
Celina Lee  
Right. And I think a lot of people don't have the courage because we feel so insecure.  And I think it's something that like, we all as humans share, right? Feeling like we're not smart enough, or, you know, didn't go to the right school or didn't come from the right family. And ultimately, like feeling like not good enough. Right. And what would your advice be for those people who struggle with that. 
Debbie Millman  
I think once you realize that you're not going to be able to just achieve confidence. That you have to work for confidence, that the idea of stepping into that effort and taking that first step into the experience of trying will help develop confidence.
Celina Lee  
I think another big reason why people don't really live the life that they want, is because they keep saying, well, I would love to do X, Y and Z, but I don't have the time because I'm so busy, right?
Debbie Millman  
That is that is, talk about epic delusion.
Celina Lee  
Yeah, everybody.
Debbie Millman  
Everybody does it. Everybody says it. But I believe in this, I think will be on my tombstone one day. Busy is a decision. 
Celina Lee  
That's right. 
Debbie Millman  
We decide what we want to do. If you don't want to do something, or if you want to do something, and you say you don't because you're too busy. I contend that it's just not a big enough priority, that we do the things we want to do, right? If we don't do them, no, the one exception, I would say are single parents, single parents have a lot to deal with, they can be busy and are busy, right? Everybody else, if you are not doing what you want to be doing, then you're doing something else that you'd want to be doing more.
Celina Lee  
Right. So your actions actually shows what is important to you.
Debbie Millman  
Yeah, absolutely. I mean, we make decisions every day about what we want to do. If you are not making the work that you want to make it your job, self generate some other kind of work. Stefan Sagmeister says that if you don't have the portfolio that you want, design the portfolio you want. And if you're not doing the kind of work that you want to be doing, then make the work that you want to be doing, when you're not doing the work that you don't want to be doing. You know, it's just a matter of choice. Don't watch Game of Thrones, don't go on vacation, don't pretend you want to do something, and then say you're too busy to do it, because you're not doing it.
Celina Lee  
Right. And I think for some people who are really not getting the meaning or fulfillment in their jobs, you could do it at home, like as a side project.
Debbie Millman  
Right absolutely. Design Matters started as a side project. 
Celina Lee  
Exactly. Right, right. I think we live in a world where we feel, a lot of us feel like we are failure if we haven't figured out our life, like in our 20s or early 30s, right? And I love that you talk about everything worthwhile, you know, takes a long time and that it was well into your 40s that you actually got to do the things that you love to do.
Debbie Millman  
Absolutely. And I recently and I've talked about this before, so I'm sorry if I'm being redundant. But I interviewed David Lee Roth a couple of months ago, the great front man of Van Halen. And in the 1980s, Van Halen was the most popular rock and roll band on the planet. And when I was interviewing David Lee Roth, I asked him what that felt like. What did it feel like to be in the most popular rock band in the world? At that time in his life, and his answer really startled me. He got contemplated and said that you have to be really careful when you get to the top of a mountain. Because it's often cold. You're usually alone, and there's only one direction
Celina Lee  
to go down.
Debbie Millman  
And so I really think about that all the time. And I don't want to reach the peak till the day before I die. You know what, I'm fine with it taking a long time, because I haven't peaked yet. And certain people haven't peaked just because they're such geniuses like Paula Scher hasn't peaked yet. Paula Scher is in her 70s. And she's doing the best work of your life. What more can you ask for?
Celina Lee  
And so, even though we live in a world where people celebrate, like early success, it's not necessarily a good thing, because you have to maintain it. And chance of maintaining is very low, right?
Debbie Millman  
If you have to keep maintaining greatness for the rest of your life, you have to pace yourself. 
Celina Lee  
Wow. So how wonderful is that, that we build up to the greatest that we can be, you know, over the course of our lives?
Debbie Millman  
Yeah, Paula Scher actually told me she said the 50s are your power years. And I would say that, for me has been very true. 
Celina Lee  
I love that. I look forward to that. We all know that no one succeeds alone and achieves dreams alone. This is a question that I asked everybody on my podcast. So who helped you to get to where you are now?
Debbie Millman  
Steve Heller.
Celina Lee  
Tell us about Steve.
Debbie Millman  
Steve is a prolific writer. He was the art director of the book review for 30 years at the New York Times, he started the Designer as Entrepreneur program here at the School of Visual Arts, which is where he now works. He was tasked by the president of the School of Visual Arts, David Rhodes to start some progressive graduate programs and invited me to join him in creating the masters and branding program, which we are at now. He also helped me get my first book deal. He is been the most influential person in my life to me, he's my mentor. He's my friend, my colleague, my comrade, and now the co-owner of Print Magazine, because we recently acquired it with four other partners and be relaunching it in 2020.
Celina Lee  
Well, how amazing is that? Because I, I heard in your other interviews that you wanted to write for the Print Magazine? So Print Magazine is for those of people who are not in the design world is actual magazine with the name, Print Magazine.
Debbie Millman  
Yeah, exactly. People are like what? It is one of the oldest, if not the oldest magazine, design magazine in the country, in the United States, and I was the editor in chief for a while when the owners, the then owners decided to keep it just digital. I decided I didn't want to do that. So I resigned. Steve was a long time writer and editor of the magazine 40 years, 40 plus years. And the company that owned the magazine went bankrupt. And we bought the assets from a company that then acquired the magazine. And that closed, the deal closed on last Friday. 
Celina Lee  
Amazing.
Debbie Millman  
I'm super excited. I couldn't be more excited about it.
Celina Lee  
So you one day had a dream for writing for the Print Magazine. And now you own!  All of this, including meeting Steve Heller happened because of that terrible article written about you on Speak Up. So what an interesting life.
Debbie Millman  
What an interesting life. That is exactly right. That is exactly right. It has been an interesting life.
Celina Lee  
I heard you talk about that there are two ways of living, living out of fear or living out of power. 
Debbie Millman  
Yes. And I think a lot of people do live out of fear, fear of what they can't do or won't do or afraid of doing. I still do. I mean, I'm not, I would not say that I'm a living in the power kind of person. As I said earlier in the show, I feel that my desire for more is bigger than my shame at failing or being rejected, and that is probably the biggest understanding of myself that's helped me understand that it's not over till you decide it is in terms of your efforts.
Celina Lee  
And I think when you were young, you were someone who would try, I heard you applied for Columbia Journalism School, and then didn't get in and then apply for other things and then didn't get it and then you didn't keep trying again. But over time, you became this person who tries. What happened there and what have you learned?
Debbie Millman  
I think that those things were, those were important rejections. I don't know that I wanted them enough to be able to keep trying to get in or do it again. I don't know. I think that that's also just 20s, learning and troubleshooting and experimenting and flailing. 
Celina Lee  
And you've taught me to not, never take first no as a no. 
Debbie Millman  
Oh. Absolutely. 
Celina Lee  
So I actually counted that I emailed you five times to confirm this interview.
Debbie Millman  
Oh really? But I didn't say no at first did it?
Celina Lee  
No, no, it was it was a no response.
Debbie Millman  
Yeah, it's very hard for me to keep up. I do my very best. 
Celina Lee  
No, actually, I absolutely did not expect to get a response. And it was like, oh, like, no, Debbie told me Well, in your other because I've been following you for years and years that, yeah, like you talk a lot about like, you had to try multiple times to get the opportunity that you wanted. And then you learn over the years to never take no or a lack of response as a permanent No. And I learned that from you. So here we are. 
Debbie Millman  
Yay! That makes me happy. 
Celina Lee  
And then if I had taken the lack of responses as a no, then we wouldn't be here, right? 
Debbie Millman  
Thank you.
Celina Lee  
You've interviewed so many successful people over the years from all kinds of industries. I'm so curious to know, like, what have you learned about success and happiness from these people and from your own life? 
Debbie Millman  
Well, one of the biggest things that I've learned is that most people, if not everyone I've ever interviewed, aside from maybe two people are really insecure about their place in the world.
Celina Lee  
Even the amazing people you've interviewed. 
Debbie Millman  
Yes, yes. They still worry that they're going to be able to do it again the next day, or if their best work is behind them, or if they can still achieve something significant. The only two people that I've interviewed of the 500 or so people I've interviewed at this point that didn't really feel that way or communicate that were Milton Glaser and Massimo Vignelli, and I attribute that to they're both being in their 80s. And just having so few fucks left to give. 
Celina Lee  
This is never going to get better. 
Debbie Millman  
And as I get older, I feel it too. I can feel being less tolerant of bullies or injustices. I also feel like I have more courage now to stand up for things that mean more to me than I used to.
Celina Lee  
Is there anything that you'd want to tell your younger self, maybe in your 20s just starting out in your career and just trying to figure it all out? Because there's a lot of listeners who are listening who are like, I don't know what I want to do with my life.
Debbie Millman  
Yeah, I would tell myself start moisturizing at a much younger age. Stay out of the sun. 
Celina Lee  
Oh, yes.
Debbie Millman  
Don't start smoking.
Celina Lee  
Right. Bad idea.
Debbie Millman  
Do not go back to the person who you're going to go back to who you know what I'm talking about. Use protection all sorts. And probably believe in yourself a little bit more than you do, if you can.
Celina Lee  
How do you think that we can do that? 
Debbie Millman  
Therapy. 
Celina Lee  
Yes, yes. Very important. Any final words of advice to our listeners?
Debbie Millman  
Be as kind to people that need things as people have been as kind to you when you needed things.
Celina Lee  
Well, thank you so much, Debbie, for being such an inspiration. I'm so honored and grateful that I got a chance to talk to you and share your story.
Debbie Millman  
My absolute pleasure. Thank you. Thank you. Thank you for doing such good work on your podcast.
Celina Lee  
Thank you. 
Debbie Millman  
Thank you.
Celina Lee 
I hope you enjoyed my conversation with Debbie. 
If you liked this episode, I would be so grateful if you can tell your friends about it and also please write me a review. This is the best way you can help me to grow my podcast so more people can find out about it
I actually check several times a day to see if there's a new review, I know kind of funny, and this is also how I know you are listening and what I'm creating is helpful for you. 
So if you want to make my day, please write me a review on your podcast app, and I'd be so grateful.
And as I've shared with you at the beginning of the episode, if you are interested learning about becoming a founding member of my new online course and group coaching program, please send me a message on my website, celinalee.co/contact that is celinalee.co/contact  or just click the link on today's shownotes.
The course will launch this year, and you will get a lot of cool benefits as a founding member.
You can also reach out to me on the same link, if you have questions about my one-on-one coaching, or have any thoughts or questions about my podcast.
And please subscribe on iTunes, Google podcast, Spotify, or wherever you listen to your favorite podcast, and I'll be back next week with another episode. Thank you so much for listening and I hope you have a great week!
---
Please subscribe to "Live Your Dream with Celina Lee" podcast in your favorite podcast player! I have an amazing season with awesome episodes prepared for you!  
If you got any value or joy from my podcast, I would be grateful if you can write me a review and give me a rating. Thank you! 🙂
Wondering how my coaching can help you? Here is what my clients have said about their experiences of working with me. 
Any questions about coaching or thoughts about my podcast?  Send me a message!
---
Download the 3 Steps to True Career Fulfillment Here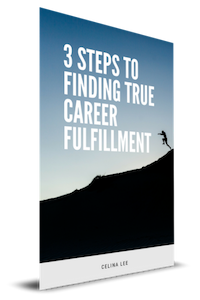 There comes a time in your career when you question your professional happiness and fulfillment. This can be a defining moment if you take the time to ask yourself important questions and take action towards career that brings you joy.
If you are feeling stuck and don't know what to do next, you are not alone. With the right guidance and a little momentum, you can be happy and fulfilled personally and professionally. If you're looking for clarity and next steps, check out this guide, the 3 Steps to Finding True Career Fulfillment.
I use a 3-part framework to help you take the next step towards doing work you love and believe in. Get your copy here.
---
Did You Enjoy This Episode? Click Below To Subscribe:
"How did you find what you wanted to do with your life? How did you have the courage to pursue your dream?" These are questions I explore with people from all different walks of life. Their journeys reveal stories about dreams, courage, inspiration, and creativity. Subscribe below!