Welcome to another episode of Live Your Dream podcast! 
Before I start the show today, I want to read you a review from one of my listeners. This review was written on Podchaser which is a new review site where you can write me a review even from your Android phone.  
Lauren wrote
My all-time favorite podcast. Inspiring, touching, and calming.. listening to this almost feels like talking with my best friend in the cafe. Her questions and stories throwing to the audiences are so authentic and it's such a healing experience to ask myself the same question and to walk down the path to find out the answer with her. I love this journey in every episode.
Wow! Thank you so much Lauren! I actually read your review when I was having a tough day and it totally made me feel so happy and you turned my not so great day into an awesome one. Your review also reminded me why I started my podcast, and gave me the motivation to keep going even on days when it's tough. So thank you so much!!
Doing this podcast is a labor of love. And I do it in the hope that it will inspire and help a lot of people. But I need your help.  If you enjoy listening to my podcast, or if it helped you in anyway,  I'd be so grateful if you can please tell your friends about it and also share on social media. 
As you know, I'm a one woman show, and I don't have a huge advertising budget, so I'm relying on you to help me grow the podcast so I can help a lot more people.
Another way you can help me is by writing me a review.  I love reading your reviews and it means so much to me. And it keeps me motivated to keep creating new episodes even on days when it's really hard to do so.
So I'd be really grateful if you can please write me a review on Apple Podcast or on Podchaser if you listen from an Android phone. I'll include both links on the show notes for today's episode. 
Just open up your podcast app and click on today's show notes. Or you can go to celinalee.co/episode45 that is celinalee.co/episode45.
Let me ask you a question.
Do you struggle with not having enough time in a day to do everything you want to do? Do you constantly feel overwhelmed and feel like you are always behind because your to do list keeps growing and growing?
Well, if you feel this way, you are not alone because this is how I feel most days. And I know today's episode will be helpful for you because we are talking about time management. We all need help with that, right? 
So I'm so happy to share with you my interview with Kory Kogon who I met at the World  Business Forum where she was one of the speakers. 
Kory is the vice president of global field development at FranklinCovey and is a co-author of the Wall Street Journal bestseller "The 5 Choices: the Path to Extraordinary Productivity."
We talked about how to better manage our time so we can become more productive, and also make sure we focus our attention and energy on what's important to us. 
In our conversation, Kory talks about the Time Matrix in the book, The 7 Habits of Highly Effective People, which is a really popular book and I think there's a high chance that you probably read it.
I've used the Time Matrix a lot when coaching my clients to help them better manage their time and I thought it would be helpful to explain it, before you listen to my conversation with Kory. 
So what you do is, you divide all your tasks and activities into four quadrants: Q1 – Urgent and Important; Q2 – Not Urgent and Important; Q3 – Urgent and Not Important; and Q4 – Not Urgent and Not Important. 
As you will hear in my conversation with Kory, the goal is to focus as much time and energy on Q2 activities and try our best to minimize Q1 and Q3 activities, and to try to get rid of Q4 activities as much as possible.
This interview was done during the World Business Forum in the press room and we had a limited time, so this episode is shorter than my other usual interview episodes, but we focused on the topic that I think most of us need help with which is time management. 
And it was recorded before the Pandemic but I think what we discuss is still not only relevant but also important and helpful to our lives now, so I hope you will enjoy the conversation.
Celina Lee  
Okay, Cory. Thank you so much for the inspirational talk. We're at the world Business Forum. I just heard your big speech. And I'm so excited to have this opportunity to have a conversation with you.
Kory Kogon  
Thanks for having me. I'm delighted to be here with you.
Celina Lee  
I know our time is short. So I thought we could maybe quickly talk about your background and where you grew up, and then talk about your book and your work.
Kory Kogon  
Okay.
Celina Lee  
So you grew up in New York, I think?
Kory Kogon  
Yeah, I was born and raised in Brooklyn, New York. And which is why it was so nice to come back here for this. And I went to school in New York, and then moved up to, I worked at a television station in New York City, and somebody there ended up going up to the Pocono Mountains. 
And I went up there and started selling real estate, land, and all that kind of stuff. I got into sales, did really well really early, then, you know, when you do well in sales, they ask you to train other people, so started to train other people. 
And then the president of that company, I'm giving you the really short version here, but the president of that company, went to another company in outside of the hospitality industry in printing, and I went with him and ran his sort of his sales division.
And really helped to train sales people and really build capability in salespeople. And from there, I started just learning as I went. I probably mentioned, I don't have a PhD and I don't have a have a master's degree, I just worked really hard, and started to take over departments and had a few mentors that really saw something in me that I probably didn't see in myself, and ended up being the executive vice president of worldwide operations for a global franchise organization.
And we actually were a FranklinCovey company, we believed in the Seven Habits as a foundational program, framework for everybody. And so we were involved in that. And then when I was done with that company in 2005, I went to work for FranklinCovey, and started to do, you know, my combination of real world stuff and Franklin Covey's principles, and became part of that organization. 
And today, I'm always out keynoting. I'm one of the thought leaders around productivity and leadership. And I also, again, very real world, I'm the Vice President of global field and organizational development. So I'm out with the real people all the time learning, which then informs our work.
Celina Lee  
I read Seven Habits years and years ago, and it really made a huge impact on my life, when I was I think relatively young, and then now that I work as a career coach, I teach a lot of the concepts.
And I know that you wrote a book called The 5 Choices: the Path to Extraordinary Productivity. Can you tell me a little bit about the book and how you wrote it? And what you try to teach people through the book?
Kory Kogon  
Yeah, so we were talking about the Seven Habits, which by the way, is still on the best selling business books list. Sells between in the United States, it sells somewhere between 2000 and 4000 copies a week, it's really amazing. And that doesn't account for outside the US. 
And inside of that, Habit Three, First Things First, really took off. People really were glomming onto the time management aspect of that. And over the years, we've taken that and iterated that into its own program, its own body of work. 
And so over the years, you know, just based on what's changing out in the workforce. So a few years ago, we now moved those principles into the The 5 Choices: the Path to Extraordinary Productivity, very popular, and it's based on the fact that the world is now full of knowledge workers. We're at industrial age, we're in the knowledge age where people are paid to think, to innovate, to create, execute, not do manual labor, although there's some of that, but even that is more complex. 
So people are thinking more around that. And in order to really optimize people's time, if you will, we said it's no longer about time, it's about making the highest value decisions, having very focused attention, and having the energy to do that in today's world. So that's the premise of the book. And the 5 Choices align to those three major skill sets that needs to be accomplished in order to feel productive at the end of every day.
Celina Lee  
Yeah, and one of the questions I get all the time from my clients are I don't have time to do everything that I'm supposed to do. I'm constantly like, overwhelmed and tired and exhausted, and there's not enough time in a day to do everything that needs to get done. 
So I would love to quickly go over some of the concepts in the book. You say there are three different categories, decision management, attention management and energy management.
So I think under decision management, number one is Act on the Important; Don't React to the Urgent. Can you talk more about that?
Kory Kogon  
Yeah, so we're all really busy and that's not going to change. This is not like oh, read this book or take this class and your life will be amazing. It can be but it takes mental gymnastics to do this and act on the important, don't react to the urgent, is the process. 
It's about discernment, intentional discernment. I need to discern everything that's incoming and make a decision in the moment. Should I be doing this or not? Because what happens is we're in survival mode. So we're just doing everything that's coming in and not qualifying it, like, should I be doing this? Or we are just trying to do everything. So it's wearing us out. And at the end of the day, we're like, we're so busy, but I don't know what I got done today.
Celina Lee  
Interesting. So we're not really paying attention to how we're spending our time.
Kory Kogon 
We're not. No, we're in survival mode. Just every email, the kids are knocking at the door, or employee comes, we're just trying to do it all. And the methodology is really about the word urgent and important put into a matrix.
Celina Lee 
Yes.
Kory Kogon 
So that you have these four quadrants, quadrant two being quadrant of importance. So these are things that are important, not urgent, they're really important things. Not Nirvana, not nice to do, but it's your life. It's, I need to make sure I'm focused on my kids. I need to make sure I get that project done with excellence at work. I need to spend time with my husband, wife or partner. I need to, you know, make sure my desk is cleaned up. I mean, it could be a lot of things that I need to do with quality. 
The problem is we have the other quadrants that are pulling on that all the time. So if you think about that was quadrant two. Quadrant one is the quadrant of necessity, urgent and important. Something comes in, it's a crisis. I need to do it right now,
Celina Lee
Your boss is asking you to do something.
Kory Kogon 
Your boss does, but we jump on that, but we may not have to do it.
Celina Lee
Sure.
Kory Kogon
But it could be I mean, you know, think about an IT person and the system goes down.
Celina Lee 
Oh, wow.
Kory Kogon 
Right? That's a crisis. So I got to act on it. But there's a lot of things in quadrant one that are self generated. We think everything is a crisis. We wait till the last minute. So we can make that thing really big. 
We can think about it. Do I need to do everything right this minute? Is everything urgent and important?  So we need to think about that. That quadrant is never going to go away because we are always going to have stuff to do, but we can think about it and minimize it. 
Quadrant three, is the word urgent and not important, it's the quadrant of distraction. So think about it. Urgent, Not important, could be an unproductive meeting.
Celina Lee 
Which we have a lot of.
Kory Kogon  
Right? It could be I'm an accommodator. I help everybody else but I don't take care of myself. I'm doing stuff that's important. Maybe important to them. But and with that, we say you are an accommodator. You're the go to person. 
I mean, imagine how you might be able to help that. Why am I the go to person? Why should I allow everybody to come to me? And do everything for them? Why don't I get clear on what's important to me?
And then maybe say, you know, hey, listen, I'm going to show you where that is, next time so you can find it yourself, kind of thing. So but there's a whole psychology that might, you know, that goes into that. So that's quadrant three.
Quadrant four is not urgent, not important, quadrant of waste. You are too burnt out from quadrant one of three. So it's excess. And I want to be careful here, because people are like, yeah, but I like a little quadrant four. And you don't, because I'll say, why do you like quadrant four? And you'll say, well, because I need to relax. And I'll say, is relaxing, important to you? And you are going to go, yeah, and I'm going to say, it's important. It's not a quadrant four.
Celina Lee 
That's right.
Kory Kogon  
So people, you know they are.  burnt out. But they feel like they can't take time off, or take 10 minutes to take a break. And your brain absolutely requires that it takes a break before it starts another project to be able to do it with excellence. 
So those are the four quadrants. Quadrant two, important, not urgent, get really clear on that, and then start tearing away a little bit, just a little bit at the other three, so you reclaim some of your own time, attention and energy.
Celina Lee 
It seems like quadrant two is obviously the most important quadrant, but we don't really spend a lot of time on it. Like things like, you know, pursuing our dreams or spending time with our loved ones, getting into a relationship, getting out of a relationship that's not working, things like that.
How can we be more aware of how we're spending our time so that way we focus our attention on quadrant two.
Kory Kogon
So it's interesting because choice two is go for extraordinary, don't settle for ordinary, and it's the second half of decision management skills. I don't have the answer to that, only you do. So you say dreams, you know, go spending time with loved ones depends on your roles in your life and who you want to be. 
Do you want to be an exceptional or an extraordinary mother or girlfriend or partner or whatever it is? And what does that look like to you? So really getting clear on who, so my father is almost 95 years old. Not best of health, but any 95 you know, and for me right now, my role as a daughter, I'm really clear on what that means to me right now. 
And my decision making during the day of the week is based on okay, what do I need to do to be the daughter that I want to be to him at this moment in his life. 
So choice two, Go for Extraordinary, Don't Settle for Ordinary, actually is an analysis of your few most important roles in your life right now, that need to be the highest quality, extraordinary and extraordinary means it's high quality, it's not like world peace, it's high quality. 
And then my decision making all day long, whether it's me as a vice president, or as a parent, or as a daughter, through the day when stuffs coming at me, should I be doing that? Or should I be on the phone with my father?
Celina Lee
Interesting.
Kory Kogon  
So you need to decide who do you want to be in those few roles, because your values are integrated right into them. And then you'll start making better decisions during the day, because you can keep doing that, you know, I don't have time for my child, you know, I don't have time to go to soccer game. Really? You do. It's hard. But you do. Because we always have time to do something we want to do and choose to do
Celina Lee
Oh, of course we do.
Kory Kogon
Right? It's called labeling and reappraising in the neuroscience world. If you just wrote down, okay, I'm a daughter, what does that really look like? And you will do it. The probability of doing it goes up because you are labeling it. Or even if you evaluate it, how am I doing as a daughter? How am I doing as a vice president? Or how am I doing as a friend, and you are going to look at if you rated yourself. You can rate yourself low and you go, oh my goodness, I need to do something about that. 
That's different than in the back of your mind you going, oh, we are such bad friends, Tom, and Mary wants us to go to dinner, we didn't go to dinner with them it was so bad, and you let it go. 
But when you do that, you put it in front of you, you label it and appraise it, your brain does a whole another circuitry of things, where it becomes much more real.
Celina Lee 
So if you actually write it down, it will give you more clarity.
Kory Kogon  
You should write down what are the few most important roles in my life right now? How am I doing at them? And just take a look at that and then decide, okay, now who do I want to be and write what we call quadrant two role statements. 
It's a, this is you know, as a vice president, I'm going to ensure that I build the capability of all of our teams, you know, around the world. So that helps when 27 people come to me and say, Can you do this? Can you do that? I'm very cautious because I'm like, can I? should I? Am I going to be too burned out? Is it really going here? Does it mean, I'm a team player or not? So it's helping me make those decisions.
Celina Lee
So getting really clear about what roles are important to you, because we all have different roles in our lives. And then making sure that we are spending our time that's aligned with that.
Kory Kogon  
As best you can. I always want this to be real, it's not going to be perfect. But if I get it even a little more than half of the time, and once you start making those decisions, and it works, it's like oh, I'm so glad I went to my kids soccer game, that was so good. 
It will, you know, again, Jim Collins talks about the flywheel, it will turn your little flywheel just a little bit each time. So you'll get some momentum, and start to really be able to get some good habits in place both in your life work and, you know, play and family and stuff like that, where you'll start to do a better job of planning out your time.
Celina Lee 
Wow, I love that. It's really powerful. Next, let's talk about the attention management, you say schedule, the big rocks, don't schedule for the gravel.
Kory Kogon  
So again, what happens a lot of times people will start to do their email. And it's like, oh, let me just get these 20 emails out of the way. And then I'll get to the real work. And then another 20 come in and you never get to the real work. 
So planning, and it's amazing, because people do planning. People have calendars and stuff like that. But I hear this all the time, we say, do weekly planning. Big rocks are the most important things that I need to do. 
So if you go back to the role statements I was just talking about, as a daughter, I'm going to make sure that I am you know, with my dad in the sunset of his life, you know, at least once a month or you know, whatever it might be, or talking to whatever it might be. If you don't put stuff in the calendar, the odds of it happening go way down for so let me reverse that. 
Thousands of studies out there will show that if you put something on paper back to paper, or you make something very specific and measurable, it increases the probability of accomplishment by 200% to 300%. 
So if we got good and said, okay, my big rocks this week as a daughter, I'm going to call my father on Wednesday. And I'm going to talk to my sisters about his condition on Friday and put it in there. 
I'm going to start working on this project. So it's a task, but I'm putting it in my calendar. So that when you come in and say hey, do you got a minute? I look at my calendar, it's going to put the brakes on for me. Say, oh, you know what, I'm going to start a project in 10 minutes. Can we do it at four o'clock, you know, in the afternoon instead. 
So these big rocks, don't start gravel is identify your big rocks, get them into calendar, first and foremost, weekly, meaning weekly planning really important. 
I don't care if it's Sunday night, I don't care when you do it, do it when you can be quiet and you can be in your prefrontal cortex when you can think. 
Think about my roles, the emotion that goes with it. And then I don't care if you take 20 minutes or two hours doesn't matter to me, but it can take you one minute, you just need time to think it's not a task list. What are the few most important things that if the world went to heck in a handbasket, I'm still going to get those few things done, and get them on your calendar.
Celina Lee  
I heard you talk about 3/10 promise.
Kory Kogon
30/10 Promise. 30 minutes for weekly planning, 10 minutes for daily planning. So the end of the day, mark things complete, which people love to do by the way. Do you ever do this where you have a legal pad with a list of things to do?
Celina Lee  
Oh, of course.
Kory Kogon  
Yeah. And then you go out, you do something and you come back to your office and it's not on your list. And you'll write it down just to be able to cross it off?
Celina Lee  
Oh, I do that all the time. Makes me feel good.
Kory Kogon  
I know. Because that's dopamine hit, that's accomplishment, right? And so you're manufacturing it, it's like, wait, I don't want to lose that. Let me write it, it's a waste of time to do it. But you do it.
By doing weekly, daily planning 10 minutes at the end of the day, you will be navigating to productivity versus wait, I was productive. Let me make sure I document that. So 10 minutes, at the end of the day mark things complete. If you didn't get stuff done, which is going to happen, move it around. So you are really solid on, you know, your planning systems and you're not missing a beat.
Celina Lee 
I love that. Number four. So the second one under attention management is rule technology, don't let it rule you. Unfortunately, I think most of us are in the latter category.
Kory Kogon  
So a lot of times people say oh well, I must be addicted. I love my technology. You can love your technology. It goes back to choice 1. Am I using my technology as a distraction? Or is it a waste? So is it quadrant three and quadrant four?
Celina Lee 
Interesting.
Kory Kogon  
Or am I using it for good? So am I sitting in a meeting, you know, surfing around on my cell phone, when something important is going on? Am I home and my child, I see this all the time, my child is trying to talk to me, I'm busy on the phone. 
So addiction means that there's damage. That's why I want to say, you can love your technology. Am I using it appropriately? Or is it causing damage, because addictions cause damage. 
If you're up all night, if you're playing games all night and not getting any sleep, I mean, so it's not for me to decide what to do with it. But we need to rule our technology. And we need to align our technology, particularly when it comes to our work systems. 
So you know, turning outlook into a productivity engine is an amazing thing. It's one of the biggest secrets in the world. Outlook has these inherent things in it that allow you to turn I mean, people like oh my god, you know, email, I can't stand it. I love it. Because I want people sending me emails, because by utilizing some of the rules and utilizing the task management system in the calendar creates an amazing dashboard of, you know, for you to see your life.
Celina Lee 
I heard you talk about the principle of one.
Kory Kogon
Yeah, so the principle of one, here's the thing. I say, where's your stuff, your stuff, you got a pile of stuff on your desk,
Celina Lee
I have a lot of stuff.
Kory Kogon  
You have a lot of stuff. I deal with a lot of engineers and they can't deal with that kind of chaos. Yeah, so they need to process and really, when you think about your stuff, your stuff can only be one of four categories. It's either an appointment, a contact, a note or a task.
Celina Lee  
Interesting.
Kory Kogon  
So it can only ever be one of those things. So if you were cleaning up your desk, and you picked up something like oh, that's an appointment with Kory, let me get it on my calendar. Or oh, that's a to do list, let me put it on my task list. Or if it's contact, I'll put it in Outlook. And if it's a note, I'll put it in my file or file it. So there's really, that's it. That's the math on it. 
In the old days, people had paper planners and in a planner, and some people still use them now. We sold that part of the company a while ago. But it was a great planner. It was a springboard, is one of the greatest leadership development tools in the world. Because if somebody had a planner, you knew they meant business, they were very organized, right? 
Today, it's all digital. So the principle of one, we need all of those things in one place. You need one calendar, one task list, a place for your notes. So when you're talking about your technology, it's one across devices. 
So my calendar should show up on my computer on my iPad, and on my phone. You should not get caught up in multiples because let's say a task list because here's my task list or calendars, right? Oh, I put it on that calendar, but I was looking at that one. So I missed. I missed it.
Celina Lee  
Or you have two different tasks lists or something.
Kory Kogon 
It's really beautiful in this day and age, we almost virtually you can sync everything. So no matter what device you pick up, you've got one calendar, one task list, one place to put your notes, and one place your contacts.
Celina Lee  
That is very, very useful, I've got to get rid of multiple task lists.
Kory Kogon  
You'll die with it. You cannot win.
Celina Lee  
So, lastly, energy management, you talk about fuel your fire, don't burn out.
Kory Kogon  
So your parents taught you. There's five energy drivers and your parents taught you these. You need to move, you need to eat, sleep, relax and connect with people. They taught you. It seems simple. 
The goal is it's tightly integrated, and the goal is if we need to make the highest value decisions, and we need to be focused, our brain needs an enormous amount of energy to do that. 
So underpinning all of it is your purpose, right? Why am I even here? What am I doing, it goes back to what roles we play. But besides that, you better be eating right and sleeping right and getting exercise because the research, if you're not moving, if you're sitting all day, sitting is the new smoking. You've heard that. 
Cortisol, when it comes to stress is putting people in the hospital. Eating, you know, sugar in the afternoon, sends you crashing down. So there's all kinds of studies about that. And the goal is how do I optimize my brain. So it can make decisions morning and noon and night that affect my entire life for good or bad.
I'll just give you one quick example of that. How many people when they go home from work, show up at the front door, and the door opens.  And there's a partner, a spouse, a child who can't wait to talk to you. And you have nothing for them. It's like, oh goodness, I can't, I can't do this right now. And how do you take care of yourself. So when you get home, you've got what it takes to have the right quality in your relationship,
Celina Lee  
Right. Because if we're not taking care of our body and our mind, we can't be productive in any areas of our life. And one thing that I've learned over the years is that there's one thing I cannot outsource, is eating properly and working out.
Kory Kogon  
That's right. That's right, unfortunately,
Celina Lee 
Any other final words of advice for our listeners, Kory.
Kory Kogon  
I think, a lot of times we deal with this in the leadership realm, and I think for all of this, we're on such a hamster wheel. And there's a lot of assumptions out there that you need to work 24 hours a day, and all that kind of stuff by the leadership and in some cases, people want to in order to, you know, get what they want to get out of life. And that's okay. 
But if the leaders don't model some of this, you know, think about that leader feels like I'm going to work morning, noon and night. And then they are trying to develop a great team that's engaged and at the top of a game and that team will model the behavior that they see. 
So in this day and age, in the knowledge worker age, when we're paid to think to innovate, to create and execute, you know, leaders and everybody and everybody's a leader, how do we model behavior that we want others to follow around being productive.
Celina Lee  
Thank you, Kory, so much for sharing your wisdom with my listeners. And I hope a lot of us listeners are now inspired to live an extraordinary and productive life.
Kory Kogon 
Thank you very much. It's great to have spent time with you.
Celina Lee  
Thank you.
Kory Kogon 
Thank you.
I hope you enjoyed my conversation with Kory, and hope you will be able to implement what we talked about in your own life, so you can focus your attention and energy on what's important to you. 
If you're looking for guidance on how to find happiness and fulfillment in your career, I put together a guide to the three steps to finding true career fulfillment.
In this guide, I share the three common themes of the people who have achieved incredible amount of success and if you find what those three things are for you, I can guarantee you that you'll not only have a successful career, but also a very fulfilling life. So if you want to check it out, you can download it by clicking on today's show notes on your podcast app or on my website, celinalee.co that is is celinalee.co
And if you enjoy listening my podcast or it helped you in any way, I would be so grateful if you can please tell your friends about it and also write me a review on Apple Podcast or Podchaser where you can write a review even from Android phone. This is the best way you can help me to grow my podcast so more people can find out about it.
I actually check several times a day to see if there's a new review, I know it's kind of funny and silly, but this is how I know you are listening and what I'm creating is actually helpful for you.  So if you want to make my day, please write me a review on Apple Podcast or Podchaser, and I'd be so grateful.
If you have questions about my one-on-one coaching, or have any thoughts or questions about my podcast, you can reach out to me on my website celinalee.co/contact,, that is celinalee.co/contact, or click on today's show notes on your podcast app and that will take you to my website.
And please subscribe on iTunes, Google podcast, Spotify, or wherever you listen to your favorite podcast, and I'll be back next week with another episode. Thank you so much for listening and I hope you have a great week!
---
Wondering how my coaching can help you? Here is what my clients have said about their experiences of working with me. 
---
Download the 3 Steps to True Career Fulfillment Here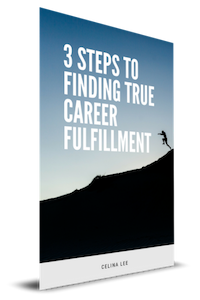 There comes a time in your career when you question your professional happiness and fulfillment. This can be a defining moment if you take the time to ask yourself important questions and take action towards career that brings you joy.
If you are feeling stuck and don't know what to do next, you are not alone. With the right guidance and a little momentum, you can be happy and fulfilled personally and professionally. If you're looking for clarity and next steps, check out this guide, the 3 Steps to Finding True Career Fulfillment.
I use a 3-part framework to help you take the next step towards doing work you love and believe in. Get your copy here.
---
Did You Enjoy This Episode? Click Below To Subscribe:
"How did you find what you wanted to do with your life? How did you have the courage to pursue your dream?" These are questions I explore with people from all different walks of life. Their journeys reveal stories about dreams, courage, inspiration, and creativity. Subscribe below!