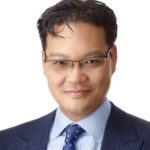 Harry Jho is the founder of the law firm, Harry Jho LLC, and Sockeye Media. His law firm focuses on OTC derivatives, Prime Brokerage, and Securities Finance. Harry not only grew his law firm successfully but also started a media company that has won 4 Emmy awards, has millions of subscribers and billions of views on Youtube, and distributed on Netflix, Amazon, and PBS stations nationwide.
Sockeye Media produces the Mother Goose Club, one of YouTube's most successful channels for children. It's hard enough to start one company but Harry started and grew two companies successfully, and none of it was actually planned. It was a series of random incidents punctuated by things seriously not working out that pushed him into a completely different direction and led him to start both companies.
He talks about how the control we think we have over our lives is actually an illusion, and how he dived into life's uncertainties, chose to face the risks instead of avoiding them, and eventually built two successful companies.
Did You Enjoy This Episode? Click Below To Subscribe:
"How did you find what you wanted to do with your life? How did you have the courage to pursue your dream?" These are questions I explore with people from all different walks of life. Their journeys reveal stories about dreams, courage, inspiration, and creativity. Subscribe below!