Step 1. Gain Self-Awareness – Learning about ourselves and knowing our values are the first step towards discovering work that is aligned with who we are.
Step 2. Overcome Internal Obstacle – Many of us stand in our own way of living the life we want, because fear stops us from taking action. It is crucial to overcome internal struggles, learn how to reframe failure and rejection, and be able to manage negative inner-voice.
Step 3. Take Action – It's only through action that our lives will change. We need to learn how to create career vision that is aligned with our values, and then take steps and actions towards the career that gives us joy and meaning.
I am talking about the Step 1 Gain Self-Awareness in this episode, and will cover Step 2 & 3 in the next two episodes.
In this episode, I share how we can gain self-awareness by learning about our values.
What is a value, and how it is different from morals or ethics
Where our values come from
The importance of living our own values and not those of others
How our emotions tell us what values are important to us
How knowing our values helps us to make important career & life decisions
---
Next Speaking Engagement:
Do What You Love: Creating a Thriving and Fulfilling Career
September 18, 2019  6:30pm – 8:30pm EST
Hosted by CreativeMornings
This Career Workshop is designed to help you identify your core values and get clarity on your goals so you can make positive progress in your career.
The registration is not open yet but email me (celina@giveonedream.com) and you'll be the first one to know when the registration goes live. My last workshop had over 100 people on the waiting list so you will want to be the first to know! 🙂
---
Download Your Free Gift, The 3 Steps to True Career Fulfillment Here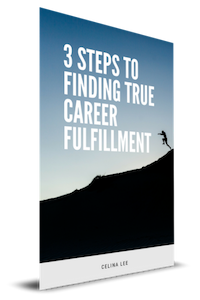 There comes a time in your career when you question your professional happiness and fulfillment. This can be a defining moment if you put your passion, aspirations, and needs into action.
With the right formula and a little momentum, you can be happy and fulfilled personally and professionally. If you're looking for clarity and next steps, check out this free guide, The 3 Steps to Finding True Career Fulfillment.
I use a 3-part framework to help you cut through the noise and step into doing work you love and believe in. Get your free copy here.
---
Did You Enjoy This Episode? Click Below To Subscribe:
"How did you find what you wanted to do with your life? How did you have the courage to pursue your dream?" These are questions I explore with people from all different walks of life. Their journeys reveal stories about dreams, courage, inspiration, and creativity. Subscribe below!