So many of us are not living our dreams because we are living our fears. We often stand in our own way of living the life we want, because fear stops us from taking action. In order to have a successful and fulfilling career, it is crucial to overcome internal struggles, learn how to reframe failures and rejections, and be able to manage our negative inner-voice.
In this episode, I talk about how we can overcome our internal obstacles and get out of our own way of living our dreams lives.
How to know if you are living your fears
Difference between conscious based values and fear based values
How to reframe rejections & failures as the evidence that you are trying, challenging yourself, and getting one step closer to your dream
The most important story of your life is the story you tell yourself about your life
The importance of being aware of your inner negative voice and how to peacefully co-exist with it
Thoughts lead to feelings, feelings lead to action or inaction, which creates our future & realities
This is the second episode of the 3-Step framework that I use to coach people out of jobs they hate and into careers they love. This framework has been proven effective in transforming careers and the lives of many professionals. If you haven't yet listened to the first step, How to Gain Self-Awareness, which I talked about in episode 20,  I highly recommend you listen to episode 20 first. It would be helpful for you to listen to them in order.
---
Download Your Free Gift, The 3 Steps to True Career Fulfillment Here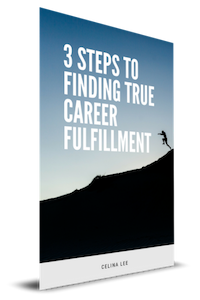 There comes a time in your career when you question your professional happiness and fulfillment. This can be a defining moment if you put your passion, aspirations, and needs into action.
With the right formula and a little momentum, you can be happy and fulfilled personally and professionally. If you're looking for clarity and next steps, check out this free guide, The 3 Steps to Finding True Career Fulfillment.
I use a 3-part framework to help you cut through the noise and step into doing work you love and believe in. Get your free copy here.
---
Did You Enjoy This Episode? Click Below To Subscribe:
"How did you find what you wanted to do with your life? How did you have the courage to pursue your dream?" These are questions I explore with people from all different walks of life. Their journeys reveal stories about dreams, courage, inspiration, and creativity. Subscribe below!