Michael Kim is the co-founder of the law firm, Kobre & Kim. Michael and his partner, Steven Kobre, met when they both worked as Assistant U.S. Attorneys in Manhattan while working on a securities case, which ultimately became the movie, the Boiler Room.
They started their law firm at Steven's apartment kitchen in 2003 and grew it into a global law firm with 10 offices worldwide and over 300 employees.
Michael talks about why he decided to start the law firm even though 99% of the people he talked to said it was a terrible idea, and what he has learned about setting and achieving goals, building authentic relationships, and how to make yourself happy. (Original broadcast date: July 18, 2018)
Michael's interview was so popular and many of you asked for a second interview with him. Here is the second interview with Michael in 3 Part series!
Goal-Setting, Time Management,  Building Relationships, and Happiness & Unhappiness (Part 3)
Also, in episode 12, you can hear about how Michael approaches goal planning and comes up with new years resolutions!
And Michael did another interview in Season 3, How to Thrive in the Pandemic! 
I'm so excited to let you know that I'm launching my Career Happiness Academy Group Coaching Program! I've taken everything I've learned over the years and designed a powerful program where I'll be guiding you through an inspirational journey of transforming your career and life through the LOVE framework. https://celinalee.co/cha/
LOVE
Learn About Yourself
Overcome Internal Obstacles
Visualize Your Success
Explore & Take Action
If you ever felt stuck and needed some help in figuring out your next step, and want to live a life with more purpose and joy, this program is for you!
---
Next Speaking Engagement:
Do What You Love: Creating a Thriving and Fulfilling Career
April 3, 2019  7:00pm – 9:00pm EST
Hosted by CreativeMornings
WeWork (Dumbo Heights, NYC)
81 Prospect Street
New York, New York 11201
I'll be talking about the framework that I developed to coach people out of jobs they hate and into careers they love. This career workshop is designed to help you identify your core values and get clarity on your goals so you can make positive progress in your career.
The registration is completely full (with over 100 people on the waitlist!) but if you want to attend, email me (celina@giveonedream.com) and I'll make space for you.
---
Download Your Free Gift, The 3 Steps to True Career Fulfillment Here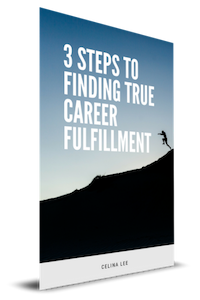 There comes a time in your career when you question your professional happiness and fulfillment. This can be a defining moment if you put your passion, aspirations, and needs into action.
With the right formula and a little momentum, you can be happy and fulfilled personally and professionally. If you're looking for clarity and next steps, check out this free guide, The 3 Steps to Finding True Career Fulfillment.
I use a 3-part framework to help you cut through the noise and step into doing work you love and believe in. Get your free copy here.
---
Did You Enjoy This Episode? Click Below To Subscribe:
"How did you find what you wanted to do with your life? How did you have the courage to pursue your dream?" These are questions I explore with people from all different walks of life. Their journeys reveal stories about dreams, courage, inspiration, and creativity. Subscribe below!