Michael Kim's first interview, "How to Make Yourself Happy," has been one of the most popular episodes on my podcast. Many of you wrote to me asking for a second interview with Michael.
Therefore, I had another conversation with Michael, and this time, we talked about "How to be unhappy" as a companion to our first conversation.
This may not be a topic you expected. Many of us resist feeling any negative emotions. Yet, as you will hear in our conversation, all of our emotions including negative ones like the feeling of unhappiness are signals from which we can learn more about ourselves and about what we want.
Michael talks about what kinds of situations lead to feelings of unhappiness and different ways of approaching them, rather than just saying we want to avoid unhappiness.
He talks about two different types of unhappiness. First, when the sources from the outside such as situations and people around us are making us unhappy. Second, when we are unhappy with ourselves. Michael shares honest stories and unique insights learned from his own life.
Our conversation was so much fun and it went a lot longer than I had expected. I will be sharing it 3 different episodes, so please tune in to all 3 episodes!
I'm so excited to let you know that I'm launching my very first group coaching program! I've taken everything I've learned over the years and designed a powerful program where I'll be guiding you through an inspirational journey of transforming your career and life through the LOVE framework. https://celinalee.co/cha/
LOVE
Learn About Yourself
Overcome Internal Obstacles
Visualize Your Success
Explore & Take Action
If you ever felt stuck and needed some to help in figuring out your next step, and want to live a life with more purpose and joy, this program is for you.
Any questions about coaching or thought about my podcast?  Send me a message! 
If you haven't yet, check out Michael's first interview, "How to make yourself happy."
If you got any value or joy from my podcast, I would be grateful if you can write me a review and give me a rating. Thank you!
---
Download the 3 Steps to True Career Fulfillment Here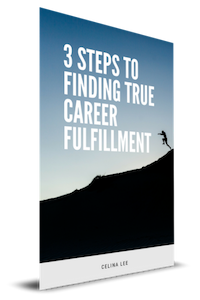 There comes a time in your career when you question your professional happiness and fulfillment. This can be a defining moment if you take the time to ask yourself important questions and take action towards career that brings you joy.
If you are feeling stuck and don't know what to do next, you are not alone. With the right guidance and a little momentum, you can be happy and fulfilled personally and professionally. If you're looking for clarity and next steps, check out this guide, the 3 Steps to Finding True Career Fulfillment.
I use a 3-part framework to help you take the next step towards doing work you love and believe in. Get your copy here.
---
Did You Enjoy This Episode? Click Below To Subscribe:
"How did you find what you wanted to do with your life? How did you have the courage to pursue your dream?" These are questions I explore with people from all different walks of life. Their journeys reveal stories about dreams, courage, inspiration, and creativity. Subscribe below!