How to Design and Manifest Your Dream Life  with Debbie Millman
For 20 years, Debbie Millman was the President of Sterling Brands, where she worked with over 200 of the world's largest brands including Star Wars, Burger King, Hershey's, Haagen Dazs, and Tropicana, and many other iconic brands.
She is the founder and host of Design Matters, one of the world's first and longest running podcasts, where she has interviewed nearly 500 artists, designers and cultural commentators for over 15 years.
In 2009, Debbie co-founded the world's first graduate program in branding at the School of Visual Arts in New York City.
She has been named "one of the most creative people in business" by Fast Company, and "one of the most influential designers working today" by Graphic Design USA.
I tried 5 times before I finally got a yes from Debbie to do this interview. I shared the story in this episode and hope it helps you to not let the fear of rejection get in the way of you trying for the things you want!
Dealing with rejections is one of topics I talked to Debbie in our conversation. We also talked about why courage is more important than confidence, and how what seemed like the worst thing that happened in her career actually turned out to be the best thing.
You'll also hear about a very important assignment she did in Milton Glaser's class at School of Visual Arts about how to design and manifest your dream life
This is the episode I mentioned "How to Turn No into Yes" where I talked about all the rejections I got while trying to write my book, which was my childhood dream. This is the most popular solo episode on my podcast.
I'm in the process of developing my Online Course & Group Coaching program which will launch in 2021! In this new course, I'll have weekly live sessions where you will learn everything I teach about how to do what you love, and how to create fulfilling and meaningful career and life.
I'm inviting a small group of people to join as the founding member. As a founding member, you will get many benefits which will include the lowest price that will ever offered, and also 1:1 private coaching with me, and many other bonuses and benefits.
If you are interested in learning more, send me a message!
If you want to schedule a complimentary coaching session with me, you can reach out to me here. 
Wondering how my coaching can help you? Here are what my clients have said about their experiences of working with me. 
Please subscribe to "Live Your Dream with Celina Lee" podcast in your favorite podcast player! I have an amazing season with awesome episodes prepared for you!  
If you got any value or joy from my podcast, I would be grateful if you can write me a review and give me a rating. Thank you! 🙂
Any questions about coaching or thoughts about my podcast?  Send me a message!
---
Download the 3 Steps to True Career Fulfillment Here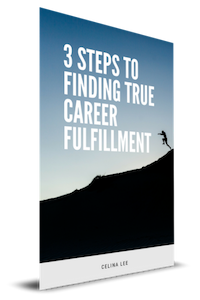 There comes a time in your career when you question your professional happiness and fulfillment. This can be a defining moment if you take the time to ask yourself important questions and take action towards career that brings you joy.
If you are feeling stuck and don't know what to do next, you are not alone. With the right guidance and a little momentum, you can be happy and fulfilled personally and professionally. If you're looking for clarity and next steps, check out this guide, the 3 Steps to Finding True Career Fulfillment.
I use a 3-part framework to help you take the next step towards doing work you love and believe in. Get your copy here.
---
Did You Enjoy This Episode? Click Below To Subscribe:
"How did you find what you wanted to do with your life? How did you have the courage to pursue your dream?" These are questions I explore with people from all different walks of life. Their journeys reveal stories about dreams, courage, inspiration, and creativity. Subscribe below!