It's the beginning of a new year and many of us have new goals and resolutions for the new year.
You might be thinking of exploring a new career path, a business opportunity, a side project or doing something creative like writing a book, painting or learning to play an instrument. 
Whatever the goal may be, I want this year to be the year that you make your goals and dreams happen! 
But starting something new brings up a lot of emotions that may get in the way of us achieving our goals. Doing something new takes a lot of courage. 
When you start, things may seem intimidating at first. You may feel insecure and not confident because you don't have any experience. 
You might even be tempted to give it up altogether thinking… 
Will I be able to do a good job? What would other people think? What if I fail?
It's very natural to feel like this. Every person who has achieved great things in life have felt this way when he or she first started out.
In this episode, I share with you a simple three step process that will help you to address this very fear.
These are the lessons I learned from my own life while trying many things for the first time, and how I took the action even when I was afraid.  
Never compare your first try with the work of the masters.
Start where you are with what you have.
Do it for one person.
You'll hear about my embarrassing story of recording my first episode of this podcast and what I learned about the early days and behind the scenes of people who look like masters in our eyes. 
This episode will help you to overcome the fear and have the courage to start! 
I'm in the process of developing my Online Course & Group Coaching program which will launch in 2021! In this new course, I'll have weekly live sessions where you will learn everything I teach about how to do what you love, and how to create fulfilling and meaningful career and life.
I'm inviting a small group of people to join as the founding member. As a founding member, you will get many benefits which will include the lowest price that will ever offered, and also 1:1 private coaching with me, and many other bonuses and benefits.
If you are interested in learning more, send me a message!
If you want to schedule a complimentary coaching session with me, you can reach out to me here.
Wondering how my coaching can help you? Here is what my clients have said about their experiences of working with me. 
Please subscribe to "Live Your Dream with Celina Lee" podcast in your favorite podcast player! I have an amazing season with awesome episodes prepared for you!  
If you got any value or joy from my podcast, I would be grateful if you can write me a review and give me a rating. Thank you! 🙂
Any questions about coaching or thoughts about my podcast?  Send me a message!
Links mentioned in the episode:
---
Download the 3 Steps to True Career Fulfillment Here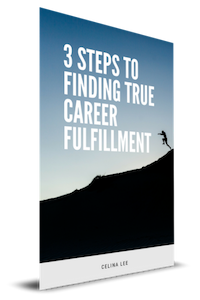 There comes a time in your career when you question your professional happiness and fulfillment. This can be a defining moment if you take the time to ask yourself important questions and take action towards career that brings you joy.
If you are feeling stuck and don't know what to do next, you are not alone. With the right guidance and a little momentum, you can be happy and fulfilled personally and professionally. If you're looking for clarity and next steps, check out this guide, the 3 Steps to Finding True Career Fulfillment.
I use a 3-part framework to help you take the next step towards doing work you love and believe in. Get your copy here.
---
Did You Enjoy This Episode? Click Below To Subscribe:
"How did you find what you wanted to do with your life? How did you have the courage to pursue your dream?" These are questions I explore with people from all different walks of life. Their journeys reveal stories about dreams, courage, inspiration, and creativity. Subscribe below!