Celina Lee 
Welcome Michael! 
Michael Kim 
Thank you. I'm very happy to be here.
Celina Lee   
I know, me too! We are in Korea right now, both of us. And we'll talk all about how we got here. But the world is a lot different from when we last had a conversation. So how are you? 
Michael Kim  
Mixed? Yeah.
Celina Lee   
I know that there's been a lot of changes in our lives, and a lot of people are going through a lot of difficulties and struggles because of the virus. So I want to hear about what you've been up to.
Michael Kim  
Yeah. Well, I think that generally speaking, I, I'd say, it's, I've been looking trying to look for positive things in the situation, mainly, because the fundamental problem that's happening, there's really nothing I can add to it.  Like I I think the last time I took any kind of biology or chemistry was in high school. And I still can't figure out why the periodic table is not like a rectangle. It's like this really weird shape, right? And then somebody tried to explain to me like, they're like elements missing from it, or whatever, but I still don't really comprehend it. So with that level of scientific knowledge, I figure between where I am now, and where somebody could actually contribute to solving the problem is such a gulf that I've treated COVID a little bit like the weather, you know, like, if the weather is just turns bad, you just try to look for how you're going to get something positive out of it, as opposed to being upset about it. So that's what I've tried to do. Yeah.
Celina Lee   
So I know that you are in Korea now, you were in New York before. So you love to work internationally, also like to travel a lot. How has the virus affected that part of your life?
Michael Kim   
Yeah, so that's one of the things I've tried to get something positive out of is, I think that one of the best things about the situation, not the virus itself, I don't want to be misunderstood as saying the virus is a good thing, or that I'm making light of it. Because, frankly, a number of people not that I'm close to but I know have actually died from COVID already, and all in the US. And then a few of Kobre and Kim's employees, my company's employees actually lost a parent to COVID. So it's one of those things where until it happens to you, it's all abstraction. And then what happens to you, it's like, the most devastating thing in the world. So I don't want to be misunderstood as like making light of it or trying to say it's a good thing. But given what I told you a few minutes ago, which is there's literally nothing I can do about it. And I just treat it like the weather I've really tried to figure out like, well, what are things that I can only do now, during the whole pandemic, that if it were to go away in a year, that I'll miss, about the pandemic times, not the pandemic itself, but the times, one of them was the ability to just stay in one time zone for extended periods of time. Before what was happening was like, clients or people within the company or other, you know, personal relationships, people would expect me to be in all these places in rapid succession. And, and I affirmatively want to meet those expectations. So probably every month, I was going, spending about 10 days in Asia. And during those 10 days, I was in Korea, and Mainland China and Hong Kong, if not another place. And then I was in the Americas, about 10 days, usually in the US, but sometimes in Brazil, as well, in the Caribbean, and then 10 days, yeah, in Europe, mostly in the UK. But sometimes I would go to Israel or continental Europe for a day. And I lived like this for 10 plus years. And I got so accustomed to it at the aptitude but I was just really, really tired and sleepy most of the time. But now just being able to like stay in one place for months at a time has really improved my quality of life. I can sleep without melatonin. I think I'm a lot healthier as a result. So that's one of the several things I think I really, I'm going to try to continue even after the virus, really try not to move around as much. And hopefully, maybe people's expectations will have been reset.
Celina Lee   
Yeah. So it sounds like there are some aspects of this new normal that you actually do like.
Michael Kim  
Yeah, my favorite aspect is actually not having to deal with, like, meet or talk to people that I don't like. So everybody at some level wants to avoid people who are not like a net positive to them. But there was like a certain amount of like day to day interactions like that you just had to have and now almost all that has been cut out and I think, like if you really think about, like what makes you unhappy. I would say for many of us, it's actually people. That's right. And so people are probably the source of a lot of stress and unhappiness. And the pandemic has really created a situation where you can really control a lot more who you interact with. And that is just socially acceptable. It gives you a perfect excuse just to not interact with those people who you ambiguously want to deceive into thinking that you like them. Like in other words, you want them to think you like them that a lot of people have a relationship like this with their boss, for example, right, you've probably secretly have mixed feelings about them, or probably 60% don't like them a 40% think they're okay. But you want them to think that you 100% like them. So this actually takes an incredible amount of energy. And now you can cut all that stuff out of your life and just have limited interactions with that entire constellation of people who fall into that category. And I actually think if you sit there and really think about it, this is like a huge plus that and hopefully, parts of this will continue after the pandemic is over. But focusing on that has brought me just huge amounts of satisfaction.
Celina Lee    
So I remember in our previous conversation you talked about if you really like the person you'll have weekday dinner or weekend meals with them. Otherwise, it's breakfast or lunch during the weekdays. So you probably don't see those breakfast or lunch people at all right? 
Michael Kim  
Yeah, if you think of like the orbit of people around you, the closest orbit of people I liked, were like the dinner or weekend meal people. But then there was like an orbit outside of them that I had mixed feelings about, some positive and some negative that I would still have to interact with them. And it was probably one of those things were mutually they probably didn't like me that much either. But we kind of both out of necessity had to be the certain standard of interaction. But now we don't have to do that. So probably both of us are relieved. There's like a net greater amount of happiness in the world as a result.
Celina Lee    
That's a very interesting way to think about it. Because I think people focus or like to talk about how people feel isolated. And it's really hard to maintain relationships, or network and things like that. So for you, I guess you just eliminate people in your life that you don't like.
Michael Kim  
Yeah, and I haven't spent that much time worrying about the relationships, I can't maintain. First of all, because there's not a whole lot I can do about it. And so feeling bad about something you can't change is pretty much a waste of energy in my mind. So I think some people get stressed about, I've heard two very common things. First, I've heard people get stressed about, well, I can't meet new people.
You know, I think making new friendships, making new relationships means so much to me. And in this pandemic, if I don't already know someone, well, I can't get to know them better. So that's one, the second thing I've heard is I'm losing touch with my close friendships, close relationships, and I don't know how to maintain them, not being able to see them as everyday, and so forth. So I actually think that, if you feel that way, there's really different ways to think about it, that will make you feel a lot better.
First of all, in terms of making your relationships, I actually don't think that it's a good idea to try and make relationships you have, you had before the pandemic stronger during the pandemic, because I think chances are very high that the other person finds it pretty creepy. Basically, because the only way you're gonna be able to do this is if you like, message the person a lot, or you try and do a lot of video calls with them.
And I suppose, if you're so appealing that a broad collection of people find it very appealing to have you reach out to them for no reason, and they want to strengthen relationships with you. And this is apart from people who just do it out of sheer commercial necessity, right?
But if you're talking about like friendships that give you joy, you know, chances are the other people don't feel the same way about you, or not all the people you want to be better friends with all feel the same way about you. And but then over Zoom, you probably wouldn't even be able to, like tell the body language and they can't as easily blow you off over Zoom.
Because, you know, whereas before, you might say, oh, let's grab dinner sometime for lunch sometime. And they could just say, Oh, I'm busy that we can get slip out of it. Now you can just be like, these are the eight slots I have and how are they gonna say no, I'm not available on any of the times. So I actually think it's super creepy if you make if you try really hard to like improve relationships that were not strong to start with.
So I think you ought to just kind of leave most of that alone, frankly, except for the ones that you have to interact with out of commercial necessity. And for that other people won't find it creepy because presumably they're doing so other commercial necessity as well. And then I think for the relationships that you did have, and you're afraid that they won't like you as much when this is all over. Because you know, a lot of it is people put it in terms of like oh the relationship means so much to me and so forth.
I frankly, like stripping it down, you're afraid that they will like other people more than they'll like you at the end of it that, if you really call it for what it is. And I actually think that because most people are stuck in the same situation, the chances that that relationship will have deteriorated substantially is pretty low in most instances. So I don't think you should worry about that as much.
I think normally, when somebody let's say is like dating someone, or friends with someone, and they're not gonna get to see them for many months. Why is it that then you feel insecure about their relationship? It's because the other person could just meet new people to be friends with could date someone else and just expand their social horizons and realize you're actually not as appealing as other people they'll meet? Right?
So in a way, you were like, worried about competition. Yeah. But because they're stuck at home too pretty much at the end of this, they'll probably still be friends with you, because you're probably still the best thing around until they meet new people. So for the most part, these relationships are in suspended animation. For if this only lasts a year or two. 
Celina Lee  
Wow, I love it. So like, we're on pause, and we have a lot less to worry about.
Michael Kim  
Yeah.
Celina Lee    
What you've mentioned actually reminds me of, like years ago, I lost my cell phone and I lost all my numbers, I didn't back it up, of course, I should have and I lost all everyone's phone number. And then my mom, like I wrote that on Facebook saying, Oh, can someone can people send me your, you know, phone number? And then my mom liked it. And I was like, how can you like it? Like, I'm just, you know, it's just like such a terrible thing that happened to me. And she's like, well, you can start all over! People who didn't like you or don't care about you are not gonna contact you again. It's like reset of all relationships. 
Michael Kim  
Actually, that's actually a really useful lie to tell. Because that way people will just be able to, you'll be able to have an excuse. When someone reaches out to like, well, why haven't you reached out to me and be like, I lost my cell phone. You see, I posted it. 
Celina Lee    
That's right, I guess it's a good excuse. So I know that this year is very unusual, right. And a lot has happened. Since we last spoke, we'll ask last had a conversation, sat down and recorded our interview. So do you have any new rules to conduct your life these days?
Michael Kim  
So I think that I have stopped worrying about things about the future. So you know what I've already kind of explained in other recordings that I don't worry about things I can't change. Other than to draw lessons about what I did wrong, and see if it can affect my future behavior. But I think that the things I was doing before the pandemic was really trying to plan for what things could go wrong, especially in business, and plan for all these contingencies. And I spent so much time planning for all these contingencies everything from a US China trade war, to dips in certain types of government enforcement, like really detailed thinking. But the whole time, it turns out, I should have been focused on like, the monkey from outbreak. That's what I should have been planning for.
And it's just really kind of shows you, not just me, but like all the people in the world, all these institutions, all these people who supposedly have so much information, they're so smart. Pretty much nobody really understood this deeply, or the few who understood it. Let's say Bill Gates, who's been warning about this for a long time,  were not able to cause a change in behavior.
So as a collective, even though we're supposed to be so capable, humanity was completely miss allocating all of its planning, resources, everything right? They were wasting all this time and money on projects that in retrospect, were of little to no significance compared to the need to prevent pandemics, the need to research, more medical treatments, and so forth.
And so I think what this has caused me to think is I'm going to stop planning for the future as much, and just worry less about things because I think the probability I'm actually hitting on, like, what's really most important is pretty low. So I've decided just to reduce the amount of time I spend planning for my future and reallocate that to try to enjoy the present more. It also has to do with the fact that I turned 50. So I figure like, kind of like, if you're towards the last one third of your time at a party, you kind of think like, stop trying to meet new people, you think of what you want to eat before you leave? So I started shifting my mind towards that.
Celina Lee  
Make the most out of what we have left. Yeah, it's interesting because we live such an unhappy life in our imagination, like most of the things that make us so unhappy are in our imagination and actually don't happen. And certain certain certain things we can't even imagine happens like Covid.
Michael Kim  
Yeah. So I feel like ever since Donald Trump was elected president, it might have been just me, I might have shifted into like an alternate reality, where then it followed with a worldwide pandemic, and God knows what's gonna happen now. This ultimate reality has slipped into. It's probably gonna be an alien invasion before the end of the decade.
Celina Lee    
Well, so, so, uh, so so about that. So it looks like the virus is not going to go away anytime soon. How do you think the world will change? And our life will change? 
Michael Kim  
Yeah, I think, so there are a few different scenarios of what could happen. But even the most optimistic scenario has the virus, the vaccine, let's say the one from that's being marketed by Pfizer, really made actually not by Pfizer, the company, but by a smaller company, that it'll take another two plus years before there's enough vaccination around then, we could start going back to some semblance of what it was before. At least,  personally, I feel like if that's what happens, things will pretty much go back to what it was before.
I think it just hasn't been long enough to really fundamentally alter human behavior. I think there'll be more video conferencing now that, like a lot of people gotten over the, the mental block they had about how to use the software, the software was around before, by the way, it was just as easy to use. But just like people who, when computers first came around, at my first job in this law firm, there were partners at that law firm, who would have their secretaries print out their email and read it to them.
Because they just didn't want to adapt to new technologies, these are like incredibly smart people who are otherwise very capable. So there was like a little bit of a mental block like that, that kind of like just didn't make any sense. So I think people have gotten over it. So there'll be a lot more video conferencing going on. And then hopefully, people will just, like, clean themselves more. I think that's actually a positive thing. And it took a pandemic. But finally, like US airports are cleaning their bathrooms. Yeah, finally. 
Celina Lee  
And NYC Subway. 
Michael Kim   
Yeah, exactly. So things like that are good, permanent changes, hopefully. But I think the rest of everything, that pandemic will not have been around long enough to really alter things fundamentally. And there's a human nature and all the institutions that we built up from these huge offices, to the travel industry, and all that stuff, that's just going to the whole shear inertia momentum of that is going to take us back.
This is also unlike, like the Black Death, or the plagues that have really killed off huge numbers of people, thanks to I think just the nature of the virus as well as the state of medical research. It has not been as severe like, I think the Black Death in Europe, it killed like more than 20% of the population, for example, within a few years. So things like that can cause huge social change. But so I don't think this will cause that much of a change. So that's why this is why I you know, what I was saying before is given it's a horrible situation.
But I think if you want to like weather, if it's like snow, snowing, you just have to figure out what you're going to get out of it. I actually think that we should all focus on what we're going to miss about the pandemic, once it ends.
Celina Lee    
What do you think you'll miss the most?
Michael Kim   
I think it's the people not expecting me to be at places. People not having expectations.
Celina Lee    
So you're able to really spend the time in the way that you want.
Michael Kim  
Yeah, with more with people I want to be with and in places I want to be in and so forth.
Celina Lee    
So if the vaccine is successful, perhaps our life will come back to our pre Covid life before bed. Do you think that there will be some changes in terms of how people work? And maybe the job market? Maybe the remote work is here to say? What are your thoughts about, you know, what people should be thinking about as they prepare for their careers in the new future?
Michael Kim   
Yeah, I think there will be definitely a lot more video conferencing. But I think if you assume the vast majority of people will still go back to the office, I think there will still be for many people, the insecurity of not forming social bonds to be able to get promoted or to have more job security. So I don't really see there being like really big changes. I do think that the COVID situation has kind of laid bare a lot of the, like the ugliness under the surface that we had, that I think we probably won't be able to forget once, even when the virus passes. Yeah, so like before the virus there were several years of almost like a no big wars, a globalization, everybody acting like we're all just one big human race, and that they all were living by certain principles. And I think that the, whenever there's like a severe sudden change to the negative, it kind of really starts revealing a lot of what was on the surface. And I think that's what's happened during this pandemic as well.
Celina Lee    
Yeah, for sure. So what were your some of your thoughts on your observation of what was going on around the world?
Michael Kim  
Yeah. So I think this all gonna sound fairly negative. But I really these are just like factual observations. So I think probably the one of the biggest was the inability of human beings to act on their own self interest, is really just the overriding theme. And I think the pandemic has really laid that bare. So even from the very beginning, when it became clear, this was a serious problem.
All these like large institutions, Western institutions, specifically, like the CDC, were not taking seriously all the accumulated knowledge from Asian countries that had dealt with pandemics and in recent memory, that's right. And they were just doing bizarre things like arguing that there's no proof that masks prevent the transmission of disease and things like that. And so like I understand the scientific method relies on the null hypothesis.
So you can never quote unquote, really know anything, like, you can't really know there's gravity, maybe it's like, little invisible angels pushing everything towards the core of the planet, you could never prove it's one thing or another. But if you like, make announcements like that, to the general population, that it has not been proven, they're just gonna interpret it as masks don't help.
And, the type, I'd say, the amount of sheer arrogance of Western institutions, I think, towards Asian countries where that actually did have experience in this, I'm not saying only Westerners are biased, because what Eastern is everybody just has like all these prejudices and biases. But I think starting with that was like the beginning of a very serious problem. Whereas if you look at what's going on now, so many deaths and illnesses that could have been prevented in Western Europe, North and South America, really, I think, began with these Western institutions kind of looking down on Asian institutions, and just thinking that they're more advanced, as opposed to just thinking, look, these governments or these societies have lived through several pandemics.
They're all wearing masks, and they got them under control. Like maybe until we figure things out, we should all wear masks, and what and just clean ourselves, and then just and then, like, research it as opposed to making these crazy announcements. So I say starting with that, like, it was a series of number of like, really, examples of human irrationality and hypocrisy.
And other examples, I'd say are like most human beings, if you'd sat them down and said, Look, there's a talk about like some grandparent or a parent you really love, right? Their chances of dying this coming year is at 1%. But that is actually going to go to 5% this year, because there's one external event. But you could actually prevent that from rising by 4%, if you wear masks in public and didn't have unnecessary social gatherings. Would you be willing to do this for the next 12 months? I'd say most people would say, yes, I would be willing to do that. And yet, people are really doing the opposite.
And I think it's it's part of like the cognitive dissonance that exists in most people's minds about things that do not appear to be an immediate, invisible problem. So if things are abstract, they're far in the future. They cognitively know it's a problem. But then they can't. They can't make short term sacrifices, like something that actually irritated me. And made me very unpopular among people who saw that I wasn't like clapping was in New York City for a time, there's this practice of around like, a certain time of the day, everybody would honk and clap for medical professionals, which I, I share in the sentiment of admiring medical professionals.
But I refused to do it because I actually found it really irritating how hypocritical people were being. Because every literally everybody was doing it. But then the same people wouldn't wear masks wouldn't like stop going out to social gatherings. And frankly, the moment that there was any kind of rule or legislation, etc, that would inconvenience them, or would try to put more resources onto the medical professionals and would take something away from that, from something that they found more convenient for them. They would push back like hell.
So you know, I think people like to do like to portray themselves as believing in things when they can do it in front of other people. Like honk and clap in front of other people and they feel like other people are admiring them and they're part of something. But when they actually have to do something, personally, that's inconvenient. And nobody's around to judge them. They will cheat in numerous ways to, to do something that is best for them but bad for other people. Yeah. And I think the pandemic has really created a lot of situations where that's true.
Celina Lee 
Yeah, totally makes sense. I think people's tell themselves they are a person with certain sets of values. But how they what they say and what they do is inconsistent.
Michael Kim   
Yeah, I think most of the time, it's actually people want to be thought of as moral. And that's what they really mean. And that's why there's so many gifts to charity that are not anonymous. So and even probably the person doing the anonymous gift is telling people that I'm the anonymous donor, who knows. And so I think like this, all the series of events around the pandemic, you know, for so many instances, people ended up kind of going with the flow on whatever was popular.
So in the beginning, after, like, the whole confusion around it, at a certain point. I think surveys showed a huge number of people in certain parts of the US. select parts of the US, really in favor of lockdowns and not having and people wearing masks and not gathering in large groups, etc. And then the Black Lives Matter movement ended up creating situations where people wanted to kind of go out and be part of huge crowds. But of course, the virus doesn't care how meritorious your purpose is, it just jumps from one person to another just because you're around. Yeah. And so what I think the same people who were saying, human life is precious.
And not gathering in large crowds means that you're supporting human life, and there's no greater higher value, what they really meant was, but if there's something really cool, I can be a part of and have other people admire that I'm a part of it. I can tell other people, then I'm actually okay if some people die from it. But they will never actually say that out loud. But that was the consequence of their actions. Yeah, I'm actually not judging. I actually don't think it's bad that if somebody feels that way, I actually find it interesting that most people who feel that way actually are unable to admit it to themselves, while still behaving in a way that causes more deaths. 
Celina Lee  
That totally makes sense.
Michael Kim  
So you probably didn't care that much about other people's lives to start with, you cared more about what other people thought of you. And you are slipping from one situation to another to try to look popular and moral. And, of course, the same people who were so against racism, saying, that's their highest value. Now that it's not as popular anymore. I think most people I know who were making those declarations have not really done anything to combat racism afterwards. They're just now on to other things.
Celina Lee  
In the same way that we talked about Me Too in our previous conversation. People, you know, are very vocal about it when it's like the flavor of the month. But you know, do you really believe it? Or are you seeing it because you want other people to like you, right?
Michael Kim  
That's right. And, you know, I'll support it as long as it doesn't inconvenience me or cost me too much money. 
Celina Lee    
Yeah. Wow. So this year has really brought out to light like, like the human nature and how we are actually, right? And we're complicated beings. So it makes sense that we are inconsistent. But a lot of times we're not even aware how we're acting and behaving and how that's inconsistent with what we say is our values, right?
Michael Kim  
Yeah. I think most people lie to themselves and to other people constantly. But don't think they are. 
Celina Lee    
Yeah, exactly. So interesting. 
So in our so this is a show. So
Michael Kim  
we go to PDO. And
Celina Lee    
any other let's see, so I'm going to
Celina Lee    
So Michael, earlier this year when COVID was getting pretty bad in New York City, there were a lot of like anti Asian American sentiments, right?
Michael Kim  
yeah, all throughout the US. There were attacks on Asian Americans, definitely people saying things to them, like really, really offensive things. And a lot of this was really pretty well publicized at the time. Everything from just like racial epithets to saying that they brought the virus to the US, which turns out wasn't true actually came from Europe. And and then I think even the president saying things like kung fu and laughing about it, and just things of that sort. So it really led to I think, a lot of difficulties for a lot of Asian Americans.
Celina Lee 
I remember there were like, people attacking Asian American women on the New York City subway. Yeah, remember, I had to be really careful. It was really sad because I never felt unsafe in New York City.
Michael Kim   
Yeah, and so I I know people who that happened to, as well, Asian American women, that were attacked on the street, and so forth. What I find really interesting is not so much that that happened, because I expect, anytime there's any kind of like a chance to blame a group for something, there's a certain percentage of people in the population that will go and harass those people. So you could probably never eliminate that percentage of people. So that it doesn't surprise me that that itself happened.
What was interesting is that there really was no outrage about it, among all of the non-Asians in the US. And if you contrast that with the huge groundswell of demonstrations and support for Black Lives Matter, I find that interesting that the same people who say, my highest principles, were any kind of racial discrimination, racial violence, I find that so outrageous, this is the most important thing in my in my life. And yet, why is it that they really felt compelled to say that to other people, and go and demonstrate, or make declarations at workplaces? But then when it was happening to Asian Americans, just literally months earlier? They actually didn't say anything about it, and didn't even pay attention to it?
Celina Lee  
That's right. Yeah. 
Michael Kim  
You know ,it might have something to do with the fact that you don't really get a lot of social capital out of saying anything, because it's happening to so few people. And there wasn't like a big, cool movement for them to sign on to. Right. So I think that was really quite interesting. And I think, I think for Asian Americans, the, the fact that all that was happening, and nobody really cared, yeah, and nobody actually said anything, it kind of reinforced more of the feeling of this really isn't about people are against racism, it's about if you have power to influence how, what's popular and how people feel, then you can kind of get something out of the system.
And if you don't, if you're too few in number, or you're too silent, then actually people don't care that much about racism, or not enough that they'll actually go and do something about it. Like all the ridiculousness, on top of the attacks, where people avoiding Chinese restaurants, a lot of Chinese restaurants, were the first ones to really shut down and go out of business.
Because the the popular notion was, people who were Asian in the US must have the virus or must be associated with the virus in some way. Yeah, of course, the ridiculous thing, like in Manhattan was, you know, not only was it that the people at the Chinese restaurants were Chinese Americans. So they, they actually hadn't been to China. Right? They're just Americans who, like families came from China. But they're also to the extent that you think maybe there's a higher probability that some relative visited them, the vast majority of them are from like, Fujian, which is really is a different part of China than what Wuhan, you know.
So I actually thought that was interesting that people felt that way, and acted that way. You know, I think it's the same kind of phenomenon of people who say they're against something that this is something a moral principle is really important, but it's only going to occupy a few minutes of their time. And anything that takes up more than that in terms of time or money, they're actually not going to do so if they really bothered to research like, is it really a problem that, like Chinese Americans, operating Chinese restaurants, is it that they actually have a higher probability of having the virus than they would realize?
Actually, there's no reason to think that but it was easier for them just to do what everybody else did and just avoid Chinese restaurants, which is exactly what happened. It's the same type of like, stupidity that I think I told you before, like after 911 there were Sikhs being attacked. It's like, You're so stupid. You can't even execute your bias programmed correctly, and attack the right people that you mean to actually discriminate against. Yeah.
So same thing was going on this time around, of course, the Asian Americans, I think the BLM movement was confusing, or at least it was for me, because while I completely agree with the sentiments underlying it, it was surprising to see the same people who seem to not care at all about anti Asian violence suddenly declare that this was their highest purpose.
And of course, what's confusing for Asian Americans is that if they look back on who has discriminated against them, and were racist to them, it's actually just as many blacks as whites. So I think that's confusing for them as well, in terms of the all the people came out for the movement, black and white, saying, they've always been not racist, and that being not racist is so important to them, of course, that many of those same people go on and vote for Donald Trump, who was not willing to condemn white supremacy. So it's all just an interesting study in human nature.
Celina Lee  
Yeah, humans are so complicated. It's like so hard to understand people. So how does everything that you just talked about, how does it affect how you live in this complicated world where you have to interact with people from all kinds of different races? And also how you guide your children? Because they're all Korean Americans, right?
Michael Kim  
Yeah. So I think that, so I already had a fairly realistic view of human nature to start with. So none of this actually disappointed me, I actually just thought it was more interesting to see that people were not as able to keep their hypocrisy hidden, that the sudden quick changes forced them to have to reveal themselves more, but of course, they're still like, lying to themselves about it.
So I think for me, you know, I think that it hasn't really changed, like I said, my view of human nature, I always thought people have trouble following their own self interest. And that they tried to present different views of themselves to different people. And actually, a lot of my own philosophy is and you shouldn't feel bad about it, you should just realize that that's what you're doing. And not confuse yourself into thinking you really are great person.
And just understand more like, that you are a mix of good and bad, and stop making yourself feel bad about it. So I, like my kids who are older, so they kind of don't listen to me that much. And usually, if I try to, like, tell them things to strive on, they'll probably do the opposite. So, I'm always very careful how to subtley program my views into them, I have really tried to get them to be nice to themselves.
In other words, stop trying to beat yourself up for things that are bad in you. I'm not one of those parents that tells their kids like, Oh, you can be anything you want, you're really great, because frankly, like, most people can't be anything they want. Okay? Most people have like severe weaknesses and shortcomings, including myself. So it's actually not a good idea to go through life thinking you're capable of things that you're really not capable at. I think I've told you my theory of the Delta as explaining the one's happiness in life. 
Celina Lee  
No? 
Michael Kim  
The delta is the difference between how smart you think you are, how capable you think you and how capable you really are. The smaller the Delta, the more successful in life you'll be, not your absolute level of talent. So I think just as the people who think that they're more capable than they really are, usually because they've been overpraised as a child will attempt to do things that they're really not qualified to do and end up really disappointed at the outcome. Because you really were not able to do whatever you set out to do. People who are really capable, but have a very low opinion of themselves will end up really never achieving their potential. And that's sad as well. So I think the key is to accurately perceive your own weaknesses, and, foibles and also maybe as revealed by Covid.
You know, maybe you secretly enjoyed not having to deal with people that you were telling people that you're friends with and you liked. Yeah, maybe just admit to yourself, you actually don't like that person and stop trying to pretend that you're their friend. And, and I think that Covid has helped, at least people focus more on what their weaknesses are and what their shortcomings are. And I actually think making the Delta small as possible is a key to happiness. It says accurately perceive what you're not good at and what you're good at. And then just try to like, match your expectations to that and stop telling yourself I'm good enough. Because if you're not, it's actually very dangerous to tell yourself you're good enough at something.
How do you know that accurately? You know, what you're good at? What you're not goood at, because most people don't know it.
Yeah, I think I think at least for me, I try to not lie to myself. A lot of people have trouble separating in their mind, things that other people have told them they should think and what they really think. So if some parents or some teacher praise them and said, you know, you can be this or you're really talented at that. It's very confusing, because like a lot of, especially the US educational system now has as a explicit technique, the overpraising of children. Thinking it gives us a positive self image.
And I think that's probably a consequence, like a positive self image, but a positive self image on aspects of your character that you really are like, bad at is also pretty dangerous. I think. So it's like a mixed result. Yeah, delusional about what one's strengths are? Yeah.
So I try to just be more honest with myself about I guess I just really try to think about if I feel stressed or unhappiness at a level, as I always think about, there has got to be a mismatch between two things that causes me to feel that way, and try to figure out, what are the two things that are being mismatched? Is it that I think I'm supposed to like doing this? And I don't? Like, spending time with my parents. I actually really love them.
And, I have only positive feelings toward them. But I find that if I spend more than several hours with them, I actually start to feel irritated. I think like, what is the mismatch, and I realized that the utility of spending more than several hours with them at a time is actually goes to negative. Because from my perspective, they repeat themselves, and start nagging me. And probably from their perspective, I'm irritating them too. So I think admitting this to yourself, actually helps you modify your behavior so that everybody involved can be happier. So I only visit them for like, two, three hours at a time.
Celina Lee  
So kind of figured out what is the way to interact with them in a positive level and maximize happiness for both you and your parents? 
Michael Kim  
Yeah.
Celina Lee  
So it seems like it's the honesty, right? Not confusing what you want versus what you think you should want. Right? In all aspects of your life, right? Just be really honest about who you are and what you want out of life.
Michael Kim  
Yeah. So I can control my conscious mind. But just in case, like, some people out there listening to this feel bad that they can't control their thoughts, and they think I can. So what's interesting is throughout, this whole pandemic. Obviously, it's like a really challenging situation for my business, and just the whole, my personal life, etc. But what I find interesting is that I haven't really felt any, like personal stress. In my conscious mind, I've been generally focusing on the positive and focusing on what I can do.
But I've had these really weird, like, subconscious symptoms that they have gotten more severe from, I think, the Covid era, which is like, it had all these like shooting muscle pains in my neck, which I wasn't having before. Which doesn't make any sense because it's traveling and being on planes that should cause that. But I'm like in one place with a comfortable pillow.
And it's happening, it must be like some sublimated stress that I can't control. At one point, I wasn't able to hold my head up for like two days. But actually was like literally walking around literally holding my head up with my hands. But it went away. I don't know why just mysteriously. So I think that much as I tried to, like control, what my conscious mind thinks there's probably a lot of aspects of this that is subconscious. So I've tried during Covid to spend more time just literally doing nothing. Oh, I actually think that there's a lot of value in just sitting for like an hour and just literally not doing anything.
Celina Lee  
Isn't that really hard?
Michael Kim  
It's actually really hard and you realize how many of your habits have to do with doing something. So like, if you if you get up to go somewhere, you're doing something so you can't do that. Like if you think about things, or you look at your phone, you're doing something so you can't do that. So literally, it's been like sitting and having a cup of coffee and doing nothing like literally blanking my mind.
Celina Lee    
Just like sit there and do nothing?
Michael Kim  
Yeah, yeah.  It's been really, really very satisfying.
Celina Lee    
Are you thinking of something or trying to not think of something? 
Michael Kim  
Well, I think since a mind is something you can't really shut down completely. The mind is still doing things, but I'm not consciously trying to affect what it does. And I found it really something I couldn't do before Covid because I have more time as a result of Covid like most people, so I figure the hours I was spending moving between places, or dealing with people I didn't want to deal with now I've repurposed it to all these more productive activities, including like an hour of day of literally not doing anything.
Celina Lee  
Wow. So you're intentionally and deliberately scheduling in not doing anything time for yourself. Wow. And what what's the goal for that?  Just to…
Michael Kim  
I think it's because I realized, especially with my neck pain, that there's got to be some type of subconscious process going on that is creating some kind of stress, I'm not able to solve with my conscious mind. So I thought if I just literally spend like an hour, doing nothing, maybe my subconscious will work on that. And actually, it has helped a lot. 
Celina Lee   
Wow. So sounds like maybe similar to meditation?
Michael Kim  
Maybe that's the same concept. Yeah.
Celina Lee 
So like, maybe being in the present?
Michael Kim    
Yeah, I've tried meditating. But it makes me sleepy. Because when you close your eyes and stuff.
Celina Lee    
It's true. Me too. Wow, fascinating. So along this topic of, what we can do to try to make our days happier, or make ourselves happier. We talked about both happiness and unhappiness in our previous conversation. So I wanted to ask you about how it relates to the change lives that we're experiencing this year. So now, like the world is a tough place, right, people are struggling, a lot of parents have to homeschool their children while working from home. So many people feel isolated when they have very little contact with the outside world. A lot of business are failing. So it's a different world, right? So has your attitudes and practices on how to make yourself happy change this year? And what have you learned about happiness this year?
Michael Kim  
Yeah, so I think that much as things are so difficult for so many people, in the grand scheme of things, things are really, really likely to just go back to how they were. Because unlike other catastrophes, like large numbers of people dying, or wars, like nothing actually has broken. Now, I know like for individuals, if something tragic happened in their families, that's something that could never be reversed. But as a society, as a world, as soon as this virus is brought under control. All the same buildings are here, all the same machines are here, most of the people are here, all the institutions are here. So I think knowing it's temporary will help you focus on the positive.
Celina Lee    
This is similar to what we talked about in a previous conversation about the different types of unhappiness, where and this is possibly a temporary problem,
Michael Kim  
Right. It's both temporary and beyond your control. So it's something that feeling bad about really doesn't affect the outcome. And it's really kind of a waste of energy. Now, I think that, like the day to day difficulties, at the end of the day, no matter how many times people tell you, oh, it's temporary, or there's somebody worse off than you, which there are because the people who are having trouble in the pandemic, either being home with their kids and homeschooling or are trying to deal with a failed business.
In the grand scheme of human suffering, it's still like, not at the worst level. And even people suffering today in the world is not at the worst level. But of course, if you're the one in the suffering, having somebody else tell you, that doesn't really help, right. I do think that looking for opportunities to do radical things, to change the way you approach life, is something that everybody should consider, and now is only possible in the pandemic.
So I think that if the ability to not work certain hours and work strange hours, is actually going to help you not feel stressed that you have to do two things at the same time. I think that you could just be bold and ask people on your company whether you can just do that. So like at our firm what I've really tried to encourge our senior management to help people do that, since the nature of our work, a lot of it is you don't have to be online at a particular time, you just have to, a lot of it is work that you can do alone.
So to be really flexible with people who really do have like childcare responsibilities at home, etc, that they're still going to do the same amount of work, but just be able to control more when they do it. Whereas before they all had to show up to the office at the same time and interact with each other for the same eight, nine hour period, etc. So I think looking for everything you can adjust in your life. Like that is actually important. And I think it there's a lot you can do just even 15 minutes a day just thinking about, you know, everything you do, like is it something that is really absolutely necessary.
Now I actually have this problem where in some ways I'm very analytical, but in other ways, I end up just getting into habits. And then I don't realize how stupid that habit is. And if I take 15 minutes to think about it, I can really change something that totally… 
Celina Lee  
Like what?
Michael Kim  
So I'll give you two examples. First, is a I I actually wake up at night, probably every hour, every hour and a half. Can't sleep more than that. And every time I get up I'm usually thirsty. I usually drink water. I used to go to the refrigerator, take out water and drink it and always think like oh, so cold. I went like this for years and years. And as somebody who I told that story to said, why don't you just leave a bottle of water outside of the refrigerator at night, and it was like a giant revelation to me. I was like, oh my god, you're right. I just hadn't thought about that.
Yeah, and ever since then that every time I drink water, and I'm like, Oh, thank God, now, it's not cold. And then another example is, you know, so back when I was traveling a lot, I had like a computer bag and a carrier, right. And you know, a computer bag, many of them were designed with like that. It's almost like a little flap in the back that you can stick something through. Yeah.
So I actually had no idea what that was for. I always thought what a stupid thing because it's not like a pocket, you can put something in. It has like a Velcro on one end. Yeah. So I never really realized what it was for. And I've been traveling at this for like 10 years, I was always doing a carrier on one hand, and a computer bag on the other always thinking like, Oh, it's so inconvenient to have to use both of these things.
And also always so lost in what I had to do that, at one point, I was stuck in this really huge line, I think it was like in Argentina. And the guy in front of me had the same thing, the carrier and a computer bag. I was like all he's suffering just like I am. He turns around, and he slips the computer bag into the carrier's handle. And he's able to roll.
I was like, Oh my God, that's what that thing is for. And ever since then, I've done that, it has totally changed my life. And then I thinking like, what else like that about my life am I missing? Is it like, I have like a severe like impairment in some way that I'm not actually seeing things like that. But I actually think probably most people have something like that, that if they spend like 15 minutes thinking about, you know, is it necessary for me to be working these eight hours as opposed to if I just talk to someone, could I just shift things around, etc, I think there's probably a fair amount of improvement.
Celina Lee  
It's like, we get so used to just the way of doing things, the way that we have always done that we don't sit down and think about, can I change anything to make my life better? To make it easier?
Michael Kim  
Yeah, I definitely. Yeah, I definitely am like that. 
Celina Lee    
Wow interesting! I think a lot of people are hopeful that you also make some mistakes too. So, I know that this year, especially, there's a lot of unhappiness, right? And struggles in people's lives. So how do you think that we can deal with the unhappiness that's kind of different this year than what we talked about in the past? Right? Do you have any coping mechanisms, let's say, you go through something really terrible. And it's really difficult for you like, how do you overcome it or deal with life's difficulties?
Michael Kim 
Yeah, so I've, I guess, I've done two things. First, I've tried to do more things for myself. So like, either the one hour of doing nothing, or just finding things I enjoy and just taking time to do it. And I think most people who have a lot of responsibilities, like if you're a parent of young kids, or you have other dependents, elderly parents, or your income is really important to the economics of the family, etc. You probably feel guilty about doing anything for yourself. 
Celina Lee    
That's right. 
Michael Kim 
But I actually think the long term harm, so if your mind is geared toward thinking you should only do things that advance the cause, the family cause or whatever, you can justify it this way, which is the long term harmful effects of you, not taking care of yourself and not being nice to yourself, is going to be a lot more costly than whatever money or time you're going to spend on that today.
So I'm not saying like, you know, leave your spouse and go and run off into like, go crazy gambling trip or whatever, but I think if you have something you really enjoy, or you want to try new things you enjoy, and you want to just spend like a little bit of time and money in it. I think you ought to just do it. Because I think if somebody like me, who can discipline myself, so well, ends up having these subconscious, like neck pains, because I'm stressing myself out. I think most people are gonna suffer from not taking care of themselves in the long term, and only focusing on what they have to do.
So I think I've tried to do more things for myself that I enjoy. Like one of the things I've really started studying Chinese liquor. So that's actually something I really enjoy. Not drink huge amounts of it, but really study it and like, understand the taste of differences, etc. So I've actually enjoyed that. The second thing is, you know, I think, I think time limits are really helpful. And that's why I think it's good to grow old and to feel a sense of loss, feeling like you wish you had more time in each stage of your life when it's ending, because it helps you focus on what you really need to get done while you're in that phase.
And same thing with Covid. I think, understanding like, what will you miss about this time when it's over? helps you focus on what are the things I can only do now? Whether it's you get to live with your kids who were supposed to be in college, and really trying to interact with them positively. I'm pretty sure most people in that situation, while telling other people, they really enjoy being with their kids, are actually privately having a tough time dealing with kids and the kids too, I think they thought they were going to now take the steps toward being an independent adult. And now they're right back with their parents like feeling like they're in high school again, right? So understanding things are going to end is helpful.
I think the same way like, you know, sometimes parents and adult children have a difficult relationship, but then when the parent gets really sick, and they're about to die. Sometimes they make peace with each other. It's kind of knowing there's an end to things that helps you focus on the positive what you need to get done. So and you know, much like if you're on a trip with a friend, and you find them very, really irritating, but you know, it's the last day of the trip. You try to find something cool to do with, with a friend that you've liked some aspects of them to start with anyway.
So I think the same thing with the pandemic, the virus is bad, terrible things have happened to people. But the really unusual shift in the world in our lives. If you assume it's going to end in the next two years, you should find what what will you miss about this time and focus on that, because you'll never get to do that again. If I'm wrong, and the thing is going to last the rest of your life? Well, you'll have the rest of your life to figure out what else to do.
Celina Lee   
I guess that's what you've just shared is how we may deal with the uncertainty of it all, right? That seems to be what people really have difficulty with, right? The uncertainty of our future like, what's going to happen?
Michael Kim   
Right. But I actually, don't think that the uncertainty itself is special about this time, like the new uncertainty of how will the international borders change? What's going to happen next month and economy etc. This uncertainty itself is like a precious type of uncertainty that will, I mean, precious not, in the sense of it's good, precious in the sense that it's unusual. It's unusual, and it will end. Right. So in that sense, it's precious, because it's not commonly available, right? So this is probably might be say, say, this is a one one and 100 year pandemic, hopefully, this isn't just like the first of many chapters like this.
But if it's true, this is probably might be the only time in your entire life, you experience this amount of uncertainty for the next 12 months, another 24 months. So what are the things you can only do with this amount of uncertainty? You know like, avoid people you don't like for example, right? So think about the things you can only do with this amount of uncertainty and enjoy the uncertainty for what it is, which is temporary and special, and will never return in your life.
Celina Lee 
Michael, I think what's special about you is that you always have a way of seeing it from a different perspective. So seems like while everybody's like, oh, the uncertainty of it all, I hate it. I can't stand it, but you're like, well, it's special because it's rare. What can you do to make the most out of it? Right?
Michael Kim  
Yeah, the things that that will happen naturally, without you thinking about it are all pretty much going to be negative, right? Because the things that will be positive for you. Usually, they aren't that many other people worrying about how to make your life positive for you. In fact, there might be nobody worrying about it. So if you just kind of let uncertainty, uncertain situation like this, just run its course, I guarantee you, almost all the experiences out of it will be negative for you.
Because the way things the uncertainty will manifest itself will be other people pursuing their goals out of it at your expense, or just large movements in the economy or politics that really have nothing to do with and you're just, you're just exposed to it. So if you're going to try to find something about the uncertainty that you can't experience at any other time, because other times of more certainty. Right? And you want to just try and capture what you can out of this uncertainty. That's precious. I think you need to actually think about it yourself.
Celina Lee 
So while we cannot control the outside events, like the the bigger things, but like day to day, what can you do every day to make your life a little bit easier? Maybe, do nothing for one hour, which you probably couldn't do before. So it's like, focus on the smaller things that we can control?
Michael Kim   
Yeah. Absolutely.
Celina Lee    
Similar to what you just talked about. I think one of the I guess, positive thing that comes out of this year is that people actually have a lot more time and have had that time to really reflect about their lives, right? Like, who am I? What do I want? Am I fulfilled? I sense that a lot of people are actually thinking about, okay, maybe I'm not fulfilled in my life right now, whether it's in my career or life. What advice do you have or would you have for people who are kind of considering changing directions in their careers and  life? 
Michael Kim 
Well, I'm a big believer, and it's very hard to make yourself into something you're not. And it's much easier just to find a better way to just be a version of who you already are. Right? So what that means is, for those people who feel guilty all the time that they have this extra time that they're not achieving things. Well, one thing that won't be popular to say, but will probably will ring true to some people is, maybe what you're discovering is that back when you were, all your time was structured, and you were at whatever job and office thinking God, if I only had free time, all the cool things I would do.
Now, you'll find that you actually need someone to tell you what to do all the time. Right? So this is, put that in stark reality, in stark contrast to what you thought you were about yourself. This is the delta I was talking about. If you thought you were a very creative person who was driven and in fact, you're not you actually need an institution to fit into and someone to tell you what to do. And I think discovering this about yourself, you can have one or two reactions, you can try to make yourself into something you're not, which does happen from time to time. But statistically, that's probably not going to happen, you're going to end up after a period of feeling bad about it and struggling against your nature, go back, right back to what you were before.
And so knowing now this about yourself, maybe maybe it's not exactly what you were doing before, but now you know, a certain amount of institutional discipline is good for you. And what you were chasing against in terms of hierarchy and structure, that some aspect of this is better for you than no hierarchy and structure. And knowing this about yourself will make you maybe have a more positive attitude towards institutions than before.
Now, the other thing is, I think if you find that with time, you can do a variety of things, and that you really are driven and creative. And not like the vast majority of people that fundamentally, much as they were complaining about having to go to the office and being told what to do, they actually like that, compared to being left alone to figure out what to do, like being given a paycheck every two weeks and being told what to do had a certain comfort to it, as opposed to now you're free to do whatever you want.
But now, maybe you won't be paid anymore. And I think most people don't like that. So knowing you don't like that it's helpful. But if you find you're one of the few people who are creative, who are really driven, not that you just want to think of yourself as creative and driven you really are. I think now you can just become a better version of what you really are. But I think here, the problem is, again, the thoughts of others creep into your mind. And make you think that the goals you have to pursue have to be lofty, it has to help other people, and then you feel guilty you are not pursuing it or that it has to be really high achieving.
I think it's good to be realistic about what you can achieve, and also what you want. So, you know, could I spend the time I spend studying various Chinese liquors to do public service? Yes. Am I? No. Do I feel bad about it? No. Am I going to pretend to other people that I don't have time to do public service? No, I actually do have time. But I would actually makes me happier to study Chinese liquor. And maybe that makes me not a good person. But I actually think most people have this issue.
And to a certain extent, admitting this to yourself, and then taking the time that you have now to pursue things that really, that you really like, that you think you're really good at, I think is really key. I think that without people telling you what to do, it's very hard to find goals. And I to people who couldn't, who can't define their own goals, I would actually just have one piece of advice, which is stop looking for something that you really enjoy. Because unless you're independently wealthy, you're going to need to make money doing it.
And as I've said before to you, if you get paid, there's some aspects of it that's really unpleasant. That's why you have to be paid money to do it, because people aren't willing to do it for free. Right? And the person was paying you is not willing to do it themselves. So once you accept that, I think what you can think of is the fact that by pursuing something that not that you like, because it's impossible to find something that pays that you like wholeheartedly, but pursuing something you excel at, that you find tolerable and maybe somewhat pleasant.
I think you're much more likely to find happiness. Why is that? Because while it's very hard to generalize what people like in terms of work, like, I'm a lawyer, but a lot of being a lawyer consists of reading incredibly dense documents and finding flaws in them. I actually enjoy it, but another person will find that excruciating,  right. So I often tell law students if you want to be a lawyer, you should go home, look at all the warranties on your appliances and trying to find punctuation mistakes.
And if you think you can do that every week of your life, then you can be a lawyer and enjoy it. But no, so what's one person's reward is another person's punishment in terms of the nature of work? But it's good. We're all built differently. And that's why people have so many, there's so many different jobs in society. But I think the one thing that is consistent is everybody likes to feel accomplished.
They feel like they feel they're good at their job. They like it when other people praise them and look up to them and admire them. They like it when they're paid more in subsequent years than prior years. So what are all these themes, they really come from being good at what you do.
And so I think if you're able to, if you have a choice between something you love, or that you think you're supposed to love, because other people have told you, this is a good thing to do, or it's, it'll make you proud of yourself, or it's important for society. And something you don't like as much but you can tolerate, but you're actually much better at, I would go with a thing much better at because, you know, you will like the feeling of being good at something. And other people admiring you and feeling like you're making a difference and being paid more money, or whatever it is.
Right? So I'd say that's my advice for people who have more time, can't find goals is instead of looking for what you really like to do, find something you're actually good at. And the starting point of finding what you're good at, is to understand what your weaknesses are, what you're not good at.
Celina Lee  
I see. So like, if I am bad in X, Y, and Z. So what does this weakness of me tell me about what I might be good at.
Michael Kim  
Yeah. And then in terms of weaknesses, just make sure you understand, are these fixable? How much effort will it take to fix them? Or even if you can fix them, do you just not want to, right? Because I think that will help you focus on which strengths to make stronger, which weaknesses to fix. If you try to fix everything. Yeah, believe me, most people are so flawed, you'll end up not fixing anything.
Celina Lee    
Wow. So interesting. So many people actually are not aware of what they're good at, though. Because I feel like as humans, we tend to discredit our abilities. So if something is easy for us, it must be easy for everybody else. Right? Like it's like not that big of a deal, right. So how do you actually objectively know what you're good at? So you can make something out of that?
Michael Kim  
Yeah, I think it's, I actually think the educational system in most countries really fails. In terms of identifying, helping people identify what they're good at. Yeah, you know. So I think for me, it's been hard to find what I'm good at, without trying a lot of different things. So I've tried a lot of different things, and then realize that there are things that people thought I was supposed to be good at, but I really am not like managing people. I'm actually really a subpar manager.
Celina Lee   
Oh, it's like, one of the most difficult things.
Michael Kim 
I think people asked me what to do in terms of managing people, because I'm the head of the co-head of this firm. But what they don't realize is, nobody ever actually hired me for this job. So I wouldn't hire me for this job. When you create a company that founders of companies are the people you should be most suspicious about, because they never got hired for that job. So they were good at something, usually sales to cause the company to build up that way. But then they get stuck with doing management that maybe they're terrible at. And so I that's one of the things I felt like I'm both not good at, and also I don't really enjoy.
So I'd rather enjoy picking select people that I think have a lot of promise and mentoring them. But I actually don't deal well with people that are not performing well. But actually think that's a whole skill in and of itself. Like there are people who can take people who don't perform well, and help them turn around and really make them into very strong performers. And I've recognized there are other people have that skill and personality, but I don't. So I try to keep away from trying to mentor underperformers.
Celina Lee  
So it's like you you become aware of what your weakness is so you try to not do as much of that and then maybe do, focus your your attention and time on doing the things that you're good at? 
Michael Kim   
Yeah, that's right.  
Celina Lee   
So interesting. I was just remembering an exercise I do with a lot of my clients called reflected best self exercise. It involves going out and interviewing maybe like 10 to 15 people around you and ask them to share with you a story about when you're at your best self, and then people are fascinated at like what they hear because they're like, I didn't know that this is what I was good at. Wow, that's how people perceive me. I had no idea! So it goes to show how like, a lot of us are not really aware.
Michael Kim  
And I think a lot of us are confused because what you love to do and what you're good at are two different things. And then some people they actually don't overlap at all.
Celina Lee    
Yeah, so your advice is focused on what you're good at more than what you are what you love, but eventually, I feel like if you're really good at something, you might actually end up liking it too
Michael Kim  
You certainly like aspects of being good at it, for example,
Celina Lee    
Or how people appreciate you or how much you're able to contribute and things like that too right.
Michael Kim 
And if you love something, but you're not good at it, then that will start exposing why you did that, and why you loved it in the first place. So some people go like into some form of public service, right? And they think, or they take a job because they think is prestigious. But then they're not getting praise and advancement. And it's confusing, because maybe they did well in school.
They think just because the educational system labeled them as smart, it means they're supposed to be, quote, unquote good at a job. But overlaying what the educational system measures and what a job measures are, there's not a lot of overlap, and so then they realize, like, well, maybe the reason I thought I love this is because I love the feeling of other people thinking of me as a fill in the blank, you know, important person, whatever. But actually, I'm not that good at it. And I feel bad about this amount of stress I have to go through to do all this stuff. You know, a lot of lawyers actually feel this way.
I think a lot of people became lawyers, because they think it sounds cool, usually because they couldn't think of what else to do. And then they realized most of their job is reading warrnties for punctuation mistakes.
Celina Lee 
Yeah. And so it's like we confuse what we want versus what we think we should want. Based on the society's perception of what's a good job and respectable job or parents' pressure, right. So like, I think it goes back to what you've said earlier about, like just being honest about who you are, and what you want. And not confuse it with what other people want for you.
Michael Kim   
Yeah, it doesn't happen only with people who are going to, like stressful high, like high prestige professions, happens the other way too. Like, I know, people who went to law school with me, and then they became high school teachers, because they thought, this is not what I really love. I really love being a high school teacher. But what they really loved, and some of them ended up pretty miserable and quit and did something else. Why? Because they thought when they were imagining being high school teacher, what they really imagined was hanging out with kids, being like, you know, popular with the kids and all that.
And then the reality was that a lot of the kids were super annoying to them. I also have a friend from college, he became a bartender after college. And he thought that was going to be really cool. And that turned out to be miserable. Because you're basically like, cleaning most of the time, and sometimes just getting abused by customers.
What he really should have realized was he loves to drink at a bar, right? and talk to people which you don't get to do a lot of when you're an actual bartender, it's like people will become entertainment lawyers, because they want to be around celebrities, and they find they actually don't get to meet any celebrities. Or if they do, they're treated like hired help, right? 
Celina Lee  
That's right. So wow, what you said it's really important, because I think often times, we confuse certain aspects of the job, or what we imagine our job to be, what we think we'll be doing versus what we actually will be doing.
Michael Kim   
Right. And the people who are trying to hire you for a job, their job is to get you to come. So they're not going to be trying to help you understand all the ways in which you will be miserable when you get there. There's literally nobody involved in the process whose job it is to help you get a realistic picture of what's gonna happen.
Celina Lee    
It's like at a law firm, like as a summer associate, you're treated like, you know, like kings and queens and you don't have to do anything really. They take you out to eat all the time. But then once you join, like it, that's it. So this year, I know that has changed a lot in terms of how we work and live right. And I would think that it has changed for you too like how you spend your time, you've talked about how you're not traveling as much. So do you have any new routines or schedules? One other question that we got for you was like, now that the divide between work and personal life is kind of blurred? Like because everybody works from home? What are your time management system? How do you structure your day to so that you are productive, but you also are able to enjoy your personal life as well?
Michael Kim 
Yeah, so I think in terms of my travel schedule, now being unnecessary, much of the time, it's really helped me evolve to the final stage of being liberated from like, societal norms in the sense of now I don't actually have to feel like I have to be anywhere. So I just go wherever I really feel like I can get get the most out of it. So I'm going from here to from Korea, where I've been for several months to go to Dubai till January, we're setting up a new office there.
And also, I get to live with my son there who's going to do an internship. So and then I'll come back to Korea. So I've kind of become totally untethered to the notion of where home is or where I'm supposed to be. So that's been very helpful in terms of the divide between personal and work, I think, when I was in the US, that was a severe issue, because I was just working from home all the time.
Now what a lot of the listeners here from the US don't realize is that, like, it's not like that in Asia. In Asia, it's like life, there's a obviously the pandemic is around, but it's a totally different scale, like things are pretty normal. And I think what I always find surprising is, everybody just kind of thinks the rest of the world is where they are. So a lot of the people in Korea explain things to about how things are in the US, they can't believe it, that there's lockdowns where you can't go anywhere and stuff like that.
And then the Americans, many of my American friends, when I explained to them how, in many ways how simple it was for countries like Korea to bring it under control, they can't believe it either. It's just so anyway, so I think here in Korea, I don't have the issue. Yet in the US, I think the fact that you basically are living in your office all the time. I think it was a really, I have a tendency to schedule every minute of my day anyway. So I really just tried to actually schedule out the entire day of exactly what I'll do, including free time, I actually blocked it off so that people can impinge on it.
And that's helped me along with keeping all the work material in one place really helped me kind of feel like there's some type of separation but also now I think makes all of us realize all the things we took for granted and maybe sometimes resented you know, having to go to the office and maybe resented that, having to go and see people in different cities or countries maybe you resented it thinking, oh another business trip now you realize like going to a different place that was away from home where you could get work done and then feel generally like most of the work was done even though you had still had to do stuff at home was actually a huge plus.
And having professional thought colleagues and friends that you could spend time with and have dinners with and travel places like you thought that was a hassle but that was actually part of the perk of the job in a way in a way now that is completely taken away you realize that you know it's something that we should not have taken for granted. 
Celina Lee  
Very true. So like that this year we are, brought to attention that some of the things that we did used to complain about or that were negative were actually positive.
Michael Kim   
Or we had too much of it. Maybe it's just like, it's like people who they love someone and then they spend all their time with them and they take them for granted eventually resent them. I think this is a little bit too much of a good thing. Now you realize some of it was a good thing.
Celina Lee    
Yeah, amazing. What's on your kind of to do list these days? Do you have any new goals now that you have more time? I also know that, something that I also wanted to ask you is you spent two weeks quarantining in Korea went back to New York came back to quarantine again. Yeah, I quarantined too where I absolutely could not go anywhere because Korean government actually tracks you with the cell phone. So how are you spending your time now?
Michael Kim   
So since I'm in Korea, I just have a normal life where I go to business meetings. And all that. So but I think when when I was in quarantine, similar to how I was living in the US because of especially my father is very, very vulnerable if he catches Covid it's like the whole list of what makes you potentially like a high risk of complications from Covid. Like he has almost every possible thing.
So I was living in like a pretty much a quarantine lifestyle when I was in the US as well. So I think that the probably the best thing that came out of quarantine, quarantine now for a month total where it literally can't even step outside your door is realizing I should never commit a crime. Because until you're actually like unable to leave a space for that long, you don't because I've never done that before. I've never like literally sat in one space for 14 days straight without stepping outside.
And I realize like, wow, it's gonna drive me crazy. You know. When I was a prosecutor, I always found it really interesting how when people I sent to jail, initially before going to jail, they will all talk about wanting their own room. Because you always imagine like if you go to jail, people will beat you up or whatever people will be smelly. But then apparently solitary confinement is like the harshest punishment and they don't do anything to you, just make you sit there for 23 hours of the day in a tiny room.
And it just drives people crazy. They would rather get into fights with people and be like harassed and be with other human beings then just sit in the room for 23 hours every day. So, yeah, I think the biggest thing was quarantine in realize I should never commit a crime because I really, like it's so painful to be locked up in a place, even though I had obviously a very luxurious lockup. But I think it also reinforced the importance of actually scheduling out your day. If you don't schedule out your day, pretty much and you're just sitting there by yourself. You can easily just fritter away the entire day and now feel bad about it. It's like an endless cycle of just falling into malaise.
So I would just basically still set an alarm, I will still have like the same time I exercise the same time I take dinner breaks. And then just like I was before the pandemic or out of quarantine, I would not work after dinner, if possible. And so I would still watch Spanish TV a few hours a day. So all this was really, a routine was really, really important.
Celina Lee 
So having having a routine and making sure that you are doing things to kind of have a structure. And also having some fun things to do on your list, like watching Spanish TV. Because  I remember in our previous conversation you talked about, like, unless we, you put up effort of trying to make yourself happy every day, however small that may be, you know, your activities or behaviors, like no one's gonna actually do it for you. It takes practice right? So my last question is any final words of advice for people listening and how they can live their dreams and thrive and really survive in this new world?
Michael Kim 
Well, I'll just repeat the one overriding principle, which is hopefully, all of our positive views are right, and the pandemic will be under control within a year or two. And so let's all focus on what we're going to miss about this time, and try and maximize doing things we can never do in any other time in our lives. 
Celina Lee 
Well, thank you, Michael. This is such a pleasure. I can't wait to share your stories with so many people. They're just waiting for this episode to come out. 
Michael Kim 
Thank you. It was a pleasure.
Episode 21. How to Make Yourself Happy
Episode 31. How to be Unhappy (Part 1)
Episode 32. How to be Unhappy (Part 2)
Episode 33. Goal-Setting, Time Management,  Building Relationships, and Happiness & Unhappiness (Part 3)
I'm in the process of developing my Online Course & Group Coaching program which will launch in 2021! In this new course, I'll have weekly live sessions where you will learn everything I teach about how to do what you love, and how to create fulfilling and meaningful career and life.
I'm inviting a small group of people to join as the founding member. As a founding member, you will get many benefits which will include the lowest price that will ever offered, and also 1:1 private coaching with me, and many other bonuses and benefits.
If you are interested in, send me a message!
If you want to schedule a complimentary coaching session with me, you can reach out to me here. 
Wondering how my coaching can help you? Here is what my clients have said about their experiences of working with me. 
Please subscribe to "Live Your Dream with Celina Lee" podcast in your favorite podcast player! I have an amazing season with awesome episodes prepared for you!  
If you got any value or joy from my podcast, I would be grateful if you can write me a review and give me a rating. Thank you! 🙂
Any questions about coaching or thoughts about my podcast?  Send me a message!
---
Download the 3 Steps to True Career Fulfillment Here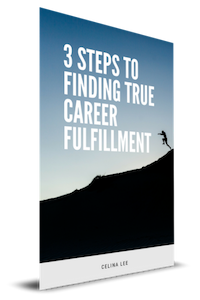 There comes a time in your career when you question your professional happiness and fulfillment. This can be a defining moment if you take the time to ask yourself important questions and take action towards career that brings you joy.
If you are feeling stuck and don't know what to do next, you are not alone. With the right guidance and a little momentum, you can be happy and fulfilled personally and professionally. If you're looking for clarity and next steps, check out this guide, the 3 Steps to Finding True Career Fulfillment.
I use a 3-part framework to help you take the next step towards doing work you love and believe in. Get your copy here.
---
Did You Enjoy This Episode? Click Below To Subscribe:
"How did you find what you wanted to do with your life? How did you have the courage to pursue your dream?" These are questions I explore with people from all different walks of life. Their journeys reveal stories about dreams, courage, inspiration, and creativity. Subscribe below!